By Vanessa David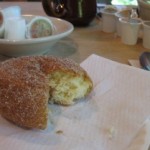 Note to self: When planning a daycation don't start it in Stamford – those are the people you're trying to get away from.
Our day began at the Lakeside Diner on Long Ridge Road, famous for their homemade donuts. Upon exiting our vehicle we witnessed a woman struggling with her kid and the front door of the diner. My husband held it open for her. Nothing. Not a "thank you" to be heard. Great start to the day.
Luckily the view at the Lakeside Diner is stunning; after all it's on the side of a lake. A gaggle of geese, a singular hawk and schools of fish waiting to be caught – you can see them coming up to the surface, rippling the water. The inside of the diner is old and cramped, covered with antique Coke signs and the like. I ordered my donut and eagerly anticipated its arrival. I've been hearing about them forever, now I was finally about to taste it.
It was okay. Maybe I should be more specific. It was a well made cake donut with a good crumb, covered with cinnamon sugar. It was okay. The view was better.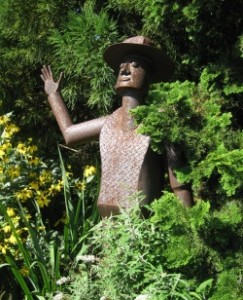 We hopped back onto the road, following Long Ridge up to New York State and then back into Connecticut on Route 35. We were headed towards the Garden of Ideas in Ridgefield (gardenofideas.com). I found it on CTVisit.com when I was looking around for things to do. And since it was a garden and it was free it met my criteria for a good time.
What a beautiful place. Wood chip paths, lined with poetry and sculptures, led us up and around a marsh. Butterflies fed on blossoms, birds flew from branch to branch. We stumbled upon a chicken coop where I clucked to them as if they understood. Every nook and cranny had something amazing to behold. Chairs and benches popping up everywhere, in case you wanted to stop and contemplate. I couldn't stop, I was compelled to walk across the wooden boardwalk going through the marsh. I strained my eyes looking for the bullfrogs I heard loud and clear. But the marsh grass was so thick and the amphibians so quick all I saw was the water splashing behind them.
Fresh produce is also available as it's a working farm. Walking past the greenhouses I was amazed at the variety of tomatoes they had growing. Plus lettuce, cucumbers, squash, I can't possibly name them all. But the formality of the gardens set against the whimsy of the sculptures and the colors of the flowers makes this place a treasure. Go. Soon. Before the warm days are gone.
Our next stop was Burgerittoville in Newtown. As the story goes the owner was making himself a burger when he realized he didn't have a bun. He put it on a tortilla and the Burgeritto was born.
Well, I wish I could say that was a genius move, but I can't. My Burgeritto was just awful. Unseasoned and overcooked meat wrapped up in a cold tortilla with lettuce, tomato, white American cheese and bacon bits. I mean, how do you screw up bacon bits? It was absolutely flavorless and inedible. A big disappointment. My husband had a chili dog and it wasn't much better. The chili was decent but the dog wasn't all beef, another disappointment. The shining moment of the stop was the sight of a dozen hawks floating in circles high up in the sky on thermal drifts. Well, they could have been vultures or hawks; they were way up in the sky, so we couldn't tell. Either way it was an awe inspiring sight.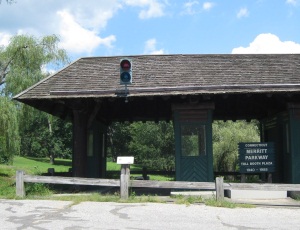 The last stop was Boothe Memorial Park in Stratford. Considered America's oldest homestead and listed on the National Register of Historic Places Boothe Memorial Park is a treasure trove of architectural accomplishment. On the 32 acre site there are numerous historic buildings housing some very interesting collections – everything from arrowheads and salt and pepper shakers to antique farm machinery and kitchen tools. They even have an old toll booth from the Merritt Parkway. Just one look and you realize how much life has changed since 1988 when the last toll was taken down. There's no way the soccer moms of today could fit their SUV's through those tolls. The buildings are only open for a few hours a day and though the gardens are nice the good stuff is indoors so you should check the website before going (boothememorialpark.org). Grills are available, bring a picnic. Admission is free.
All in all it was a great day, minus the burger. Get out there and discover something right in your own backyard! You might learn to appreciate our area – minus the people, of course.