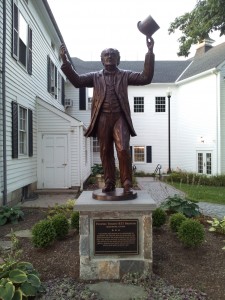 Sometimes a friendship or an experience is healing to the soul, and sometimes healing comes from a place.  For me, that place was Bethel, Connecticut.  At 30 years old, I found myself breaking off a bad relationship and imagining that I would live out the rest of my days as a spinster throwing cats at people.  I needed a place of my own and saw an ad for a studio on Grassy Plain Street in Bethel.  It was here that I reconnected with myself while discovering the picturesque neighborhood surrounding me.  The charming New England town of Bethel, which means "house of God", is about 60 miles from New York City and has over 18,000 residents.  I've compiled a list of some fun things that make Bethel the greatest town on earth! 
Molten Java
Molten Java is a delightful local coffeehouse that roasts its own coffee beans and represents the heart of downtown Bethel.  At any given time you'll see metalheads, bikers, hippies, intellectuals, musicians and coffee lovers alike hanging around the shop.  Molten supports the local scene by hosting jazz and open mic nights, and they display art and photography from neighborhood artists.  With free Wi-Fi, stacks of board games to play, and lots of cozy seating inside and out, customers are encouraged to stay as long as they'd like.  The shop is also known for their vegetarian-friendly menu which includes Veggie Chili, Hummus and Tobouli, Chick Pea Tagine, and an assortment of burritos and wraps served with chips and salsa.  You can get tasty desserts, Chai Latte, Hot Cocoa, Molten Freeze blended drinks, and over 20 different hot or iced teas.  Oh, and they also serve coffee!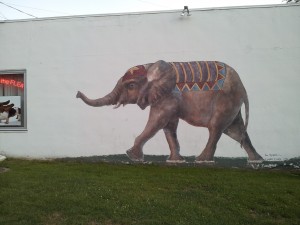 P.T. Barnum
Born in 1810, P.T. Barnum is Bethel's most celebrated resident.  As a promoter, politician, publisher, and philanthropist this showman embodies the American spirit.  The town of Bethel has memorialized him with a life-size sculpture that proudly stands in front of the Bethel Library, top hat in hand.  Barnum is best known for his human oddity attractions at the American Museum in New York City, infamous hoaxes of the Fiji Mermaid (monkey body sewn to fish tail) and Bearded Lady, and for popularizing the traveling circus.  You can find a mural of Barnum's greatest star, Jumbo the Elephant, on the side of the pet grooming shop "Beyond the Flea" on School Street.
Dr. Mike's Ice Cream
Rich, creamy ice cream, thick hot fudge, fresh whipped cream, and loyal customers is what Dr. Mike's is all about.  They rotate 8 indulgent, sexy flavors daily with their signature concoction – Chocolate Lace.  My favorite is Pumpkin, available in the fall, and Vanilla Heath or Oreo with hot fudge and whipped cream.  This neighborhood favorite often has a line that extends out the door but it moves quickly and it's worth the wait.  Make sure you bring money to this cash-only shop or else you'll join the other Dr. Mike's customers waiting in line across the street at the ATM machine!
A Stitch in Time
My dear friend Cynthia has tried to convince me that knitting is cool — and after bringing me to this shop, I'm starting to think she might be right.  They sell knitting yarns in a variety of luscious colors and comfy textures.  Beautiful samples are displayed around the store amongst needlepoint canvases, buttons, instructional books and all the tools of the trade.  A knitting layman can be easily overwhelmed, but friendly staff members are quick to assist and they offer workshops for social and educational knitting.  I see scarves and yarn bombing in my near future.
Wah Lah
As any vegetarian knows, French onion soup made without beef stock is near impossible to find.  But wait! This gourmet soup and sandwich shop offers a vegetarian version as well as Lentil, Chilled Carrot, and Butternut Squash.  They serve made-to-order grilled Panini-style sandwiches, fresh salads, and cake pops.  You can find owner Chef Keith there with a welcoming smile and can count on a delicious meal prepared with the highest quality ingredients.  They've recently added homemade Italian Ices with flavors from Watermelon to Chocolate.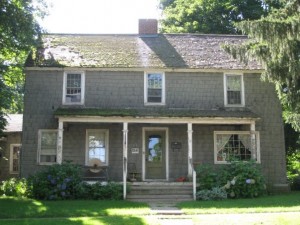 Blackman Avenue
There's an old Colonial house on Blackman Avenue that has Revolutionary War written all over it!  It stands two floors tall with a roof covered in moss and an old spin wheel on its porch.  Suspecting that it had historical significance, I Googled it and found that this home is the "Daniel Hickok House."  Generals Benedict Arnold, David Wooster, and Gold Selleck Silliman retreated there during a terrible storm on the night of April 26, 1777, as eighteen hundred British troops were burning down a repository of military supplies in Danbury.  Whoa…
Bethel Pizza House
The Greek-style pizza made at this dive shop is the definition of comfort food.  Thick, crispy, soft crust, thick cheese and marinara sauce make up a Bethel Pizza House pie.  The smell of this pizza permeating downtown Bethel activates my addictive personality and the next thing I know I'm downing several slice with the "Intervention" theme song playing in my head.
Gilleoghan Irish Dance
At a Pagan metal show, you can find me doing the Irish Jig somewhere near the pit.  This Irish Dance Studio offers lessons in Irish dance, music and language.  Run by award winning champions in Irish Dancing, this studio offers a nice alternative after-school-activity for kids other than sports, ballet and karate.  The studio itself is visible to all walking by and the enthusiasm and excitement of the students is evident.  Perhaps I should get some actual lessons so that I can properly execute this type of dance at the next Pagan show.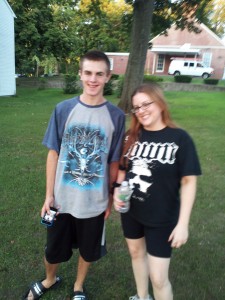 Peachwave
This self-serve frozen yogurt shop has become a local phenomenon.  This place is packed every day with teens making their own sweet creations at an affordable price.  They offer flavors like Chocolate Peanut Butter Cotton Candy, Tiramisu, Key Lime, Kahlua, Cheesecake, Cupcake and every possible topping.  You can have as little or as much as you want and can make it healthy or simply indulgent.  Yogurt is a great source of protein and calcium and it's easier to digest than milk.  Yogurt also boosts our immune system and lowers cholesterol.  You can balance out this tragically good for you dessert by topping it with M&Ms, crumbled Oreos, mini Reeses Peanut Butter Cups, fudge or caramel sauce, nuts, Cocoa Pebbles, granola and much more!  Froyo, bitches!
Greenwood's Grille & Ale House
Greenwood's Grille & Ale House is located in the old Bethel Opera House that used to be the Barnum Theatre.  They have a vast selection of craft beer and ale on tap and a really great outdoor patio for a warm summer's night.  I like the Roast Portobello burger with sweet potato fries.  The staff is friendly, the menu choices are delicious, and they host live music on Saturday nights.
 Which town in CT is YOUR favorite???  Let us know, you might see it in future Places to Go columns!