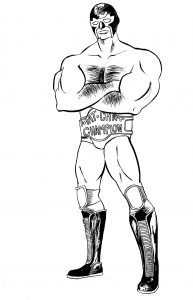 Well, I told you I would be doing more these columns on a more frequent basis. So, here it is, the next edition of my off the cuff commentary on the world of pro wrestling, that tries to stretch beyond the boundaries of WWE (though we cover them.) Why don't we get started?
WrestleMania And The Greatest Royal Rumble
Well, WrestleMania came and went and I can say is that I was a bit underwhelmed. Sure, the return of Daniel Bryan was fantastic, but some matches just underperformed. AJ Styles/Nakamura was just good, when people were expecting great. But since then, it looks like they're going to extend this feud. Let's hope this leads to a big payoff. Still don't understand why WWE continues to keep the title on Lesnar. I thought, just like a lot of other people on the internet, that Reigns was going to take the title at the Showcase Of The Immortals. He didn't. Nor did he at the Greatest Royal Rumble. So, who really knows what they're going to do at this point? I think they need a champion who is actually going to be more of a presence than Lesnar. But what do I know, I'm just some jerk on the internet.
Speaking of the GRR, the match itself was pretty decent. There was a stellar performance from Daniel Bryan who lasted well over an hour. He started at the one position and basically made it until the final four. Though, did you see what his chest looked like afterward? Brutal. Those chops can sting, to put it mildly. (Ask me about the time I had a co-worker, who was an indie wrestler, give me one of these shots. Even if done correctly, they still stings and can leave a mark, to put it mildly.) In the end Braun Strowman won the match. Maybe they'll finally pull the trigger on him as champion? (Though it must be noted, WWE was a tad hypocritical, for putting on a show in a country, Saudi Arabia, where women wrestlers weren't allowed to performed, after pushing their whole "Women's Wrestling Revolution" slogan to the moon. I mean Saudi Arabia isn't known as one of the most progressive places for a whole bunch of reasons.)
NXT Takeover New Orleans
It would be wrong to not mention the awesome NXT show that took place the night before WrestleMania. It featured a killer ladder match, which included the debuts of Ricochet and EC3, for the newly created North American Title. Adam Cole took the new belt, which was good booking, because now his faction has a whole bunch of belts. It makes them look much more badass. Hopefully this is the start of a dominant heel faction. Plus, the title match between Andrade "Cien" Almas and Aleister Black delivered, with Black taking the title and Cien being called up to Smackdown (where he hopefully won't be lost in the shuffle. I hope they don't waste his talent.) The unsanctioned match between Johnny Gargano and Tomasso Ciampa was everything you could hope for and more. These guys put on another clinic, which could easily be a Match Of The Year contender. Ciampa is just a heat magnet at this point, which is great. he just walks out and people boo. He doesn't even have to say a single word. Though, the feud is far from over, if you've been watching the weekly NXT show the past few weeks. I will say that if the main roster WWE shows sometimes leave you hanging, you can always count on NXT to deliver.
Impact Wrestling Hopefully Turns A Corner
I must admit, that I am a fan of Impact Wrestling. I know at this point, that's the wrong thing to say, but I've been following the promotion since its early days. They've had some good times, some really bad times, but they always seem to keep on chugging. Hopefully, they've finally turned a corner and can become a solid wrestling company once more. Recently, Bobby Lashley and EC3 left, but they brought in some great indie talent in the form of Austin Aries, Johnny Impact (Mundo, Morrison) Brian Cage, Su Young, Fenix and Pentagon Jr. (Their Lucha Underground vs. Imapct show at WrestleCon during WrestleMania weekend was a success. In fact, they've brought in some Lucha Underground talent to work their matches, which can only be good. (Get The Mack, too.) They have some ultra-talented workers.  Alberto El Patron (Del Rio) was fired for no showing a WrestleCon match. (He's burned a lot of bridges.) All this led to the surprise booking decision of having Pentagon Jr. beat Austin Aries for their top title. This surprised quite a few people and that's good, because even though wrestling is scripted, you have to make it seem like anything can happen, and that's what they did. Even, Scott "Do The Math" Steiner returned, where he teamed up with Eli Drake to win the Tag Titles. Plus, they turned that brutal Sami Callahan botch on Eddie Edwards into a compelling story. Talk about making lemonade from lemons. So, I'm at least curious to see where this goes. It never hurts to have more places for wrestlers to work.
Jericho Returns To NJPW
So, Chris Jericho will once again be wrestling for NJPW. It looked like that feud he started with Naito the day after his incredible Wrestle Kingdom match with Kenny Omega back in January would just end. He said he wasn't coming back, he wrestled in the GRR, even announcing he was coming back to the WWE. But this was all a swerve, as he recently attacked Naito at a show, which will lead to a match on June 9, on a bill that will also feature the fourth match between Okada and Omega. Maybe, I should start watching NJPW. Anyway, you have to give credit to Jericho, he keeps coming up with new ways to reinvent himself, even this long into his career. Plus, he makes a fantastic heel, especially in NJPW. If you saw the build up to the Omega match, you'll know what I'm talking about. So, kudos. In addition, Cody, Omega and the Young Bucks are going to the be the first non-WWE wrestler Funko Pop figures being produced. That's quite a development. Maybe, I'll have to finally sign up for NJPW World.
Lucha Underground Returns On June 13
I'll keep writing about Lucha Underground as long as the show keeps airing. It has to be my favorite wrestling show right now. Well, they finally have a start date for their new season. They released a teaser trailer, which looked completely bonkers, and whet my appetite. I'm curious to see where this all leads. Not only hyped on the returning wrestlers, but I'm curious to see who they bring in. For me, this show does more in one hour than some companies do with over five hours of programming. Once, this gets up and running, expect more reporting on this show. I mean, it's my column, I can write about whatever I want to write about. I'm not like most internet wrestling writers.
Well, that's it for now. Hope you enjoyed my ramblings. Hope you once again enjoyed the artwork from Chris Generis. I'll see you hopefully sooner than later (when I get some time between my day job and my side gig as a freelance music journalist. I keep busy).
For more from Alternative Control, find us on Facebook, Twitter, Instagram, Soundcloud, and bandcamp.