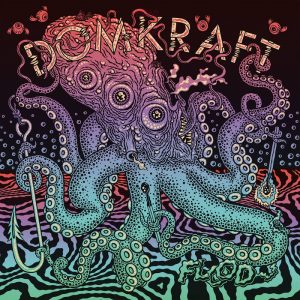 Swedish doom trio Domkraft just released their sophomore album Flood (October 19, 2018 via Blues Funeral Recordings) to many accolades, called "mind-melting" and "majestic" by critics.  Sounds like Mastodon-meets-Gorge to my ears, which is a good thing.  Domkraft is also featured on Magnetic Eye Records' redux of Pink Floyd masterpiece The Wall, with the track "Empty Spaces."  Drummer Anders Dahlgren takes over Nerd Talk this week with thoughts on old school first person shooter games…  Enjoy!
I've been gaming a lot ever since I got my Commodore 64 as a kid. I went on to Amiga 500 and after that I started gaming on my parents PC, where me and the neighborhood kids would gather to play "Heroes of Might and Magic." But I didn't really develop my real gaming habit until like 15 years ago when I discovered the magic world of First Person Shooter. Since then, this is pretty much the only kind of games I play.
I've played most of the CoD and Medal of Honor games taking place under WWII. The modern ones are not for me. I'm a little conservative here. I only enjoy FPS war games that take place during WWII or the Vietnam War.
However, there are two games that really made an impact on me for different reasons. One is the best game ever to be made. The other one is the game that got me into online multiplayer gaming.
So, the best game ever is of course Half-Life 2 from Valve Corporation (later to become Steam). Even though this game is from 2004, I still haven't played a single game that comes even close to pushing this one down from the No. 1 spot. Just look at the story, the sounds, the graphics and the AI! I tend to get nostalgic over this game every once in a while. So every 4-5 years or so I return to Gordon Freeman and City 17 once again to fight for freedom against The Combine. Sadly enough, I don't think that there will ever be a Half-Life 3. It seems to have become Steam's "Chinese Democracy…"
The other game that has meant a lot to me is Vietcong (and later on Vietcong 2) from the Czech developer Pterodon (Later Illusion Softworks and 2K). I bought this game cheap from the web, just to kill some time and give it a go. After finishing the campaign, which wasn't really that good, I thought, "Why don't give this online multiplayer a try?" There and then a new world opened up for me. Within a couple of years me and some other frequent players had created one of the most respected clans within the game and we did frequent clan challenges during the weekends. Every Friday evening we met up in the game, playing, chatting and drinking beer from behind our keyboards. The clan had members from Sweden, Germany, Latvia, Norway, France, and the Netherlands. This went on for like 10 years and we developed a really nice bond during that time. One of the other Swedish guys in the clan, Eddie (who is also a musician in a pretty well-known electronic band), is now one of my closest friends and we hang out as often as we can.
The multiplayer servers were hosted through GameSpy and we were devastated when the company was put to rest and cancelled all their servers. All of a sudden we had no game to play and we lost contact with all the other guys in the clan. I still miss this game and the Friday evenings behind the controls so much. Me and Eddie now play Rising Storm 2: Vietnam through Steam every now and then, but the feeling will never be the same as during the Vietcong era.
What are some your favorite FPS games?  Do you prefer console or PC gaming?  Leave a comment, and don't forget to check out these new tunes from Domkraft below!
Connect with Domkraft at the following links:
Thanks to Red Lead Media for hooking up this edition of Nerd Talk.  For more from Alternative Control, find us on Facebook, Twitter, Instagram, Soundcloud, and bandcamp.