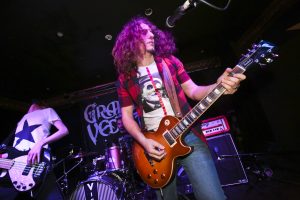 Dan Murroni, guitarist and vocalist of London fuzz rockers Gramma Vedetta, expounds on his love of computer science…
My first time was in 1998. Dad, I need a computer to study. (Yeah, sure). Ok, so I have a band, why I don't use the free space offered by my isp to code an html a page with couple of shots and some real media files?
One year later I was choosing my University course: what should I do? Philosophy or Computer Science? Which one will help me to escape from my island?
And here I am some years later, a young Software Engineer building application for an E-learning platform for the University of Milan.
After more than 15 years I still love my job. You never get bored. And if you are, you can always try to solve the problem using a different approach, a different language, a different technology.
I like to gather requirements, visualize the problem in my minds, drawing in a whiteboard rectangular blocks and connect them with lines.
I love identifying actions, actors, procedures, translate them into words that a machine can understand. I'm a advocate of Clean Code, which is a set of principles that helps the developer write code easily readable and maintainable. And beautiful to see.
I am an fan of the test drive design, which is a development methodology that requires writing small programs (called tests) which, using parts of your application, check that a given input has a certain output. And then you write the application so that these checks don't fail.
But I love also the quick prototyping approach to validate if an idea is the winning one.
For some years now I have been working closely with data scientists, helping them to release their artificial intelligence models in a production environment. This got me into the world of Big Data where I started working as a data engineer.
This a new type of software engineer which extends his or her skills to build systems to extract, transform, and load an huge amount of data in an efficient, maintainable, and easily updatable way. This for helping artificial intelligence models to get the data they need or for data analysts for building reporting tools.
How rock n roll is all of this?
Connect With Gramma Vedetta
And check out GV's track "Address Unknown," featured on the AltCtrl Spring Sampler:
Photo courtesy of the band.  For more from Alternative Control, find us on Facebook, Twitter, Instagram, Soundcloud, and bandcamp.