The latest CD spinning in the Corolla of Doom is Patience is Resistance by Sullust, a Bethel, CT instrumental band.  If I had to throw a dart and try to place the metal subgenre, I'd say doom meets post hardcore.  It's the most recent offering from a collective of musicians that have been creating together for many years in various projects.  As much as I missed the "angry dude yelling" aspect while listening to Patience is Resistance, the album is cohesive journey from the first track to the last.  Guitarist Chris Thompson says the band spent a year composing the songs before playing any shows, and that "we just wanted the music to speak for itself."  Disillusionment and eventual acceptance of outcomes ring through when I listen, but I can only imagine what these guys had in mind.  Maybe that's the beauty of instrumental music?
Speaking of bands that let the music speak for itself, Kurokuma has a new EP out via Off Me Nuts: Sheffield's Best Metal Bands, Vol. 1.  The UK doom outfit uses vocals only sparsely, in favor of samples and sound effects.  Things take an unexpected turn with the "Memphis edit" (I'm not sure what that is, but just listen to it) of their track "Wasp Nest, and the ten-minute cover of Jamiroquai's "Deeper Underground" is a mind-bending interpretation of the original.  If you've listened to Doperider or Advorsus, it's easy to hear how Kurokuma is constantly pushing boundaries and broadening their influences.
New Hampshire's Dust Prophet has been pushing boundaries as well.  They have a new single, "Shadow Army," due out May 31st that is their lengthiest song to date and also incorporates Middle Eastern musical influences.  At least I think that's what they were going for — the first minute and a half of the song embodies their previous stoner-metal-meets-hard-rock grooves, but then the tempo pulls back to lead listeners into a different atmosphere.  The extended bridge/outro pairs a hypnotic bass line with mysterious guitars and vocals.  The genie is out of the bottle….  "Shadow Army" comes out this Friday, May 31st — so keep an eye on Dust Prophet's bandcamp and social media channels to check it out.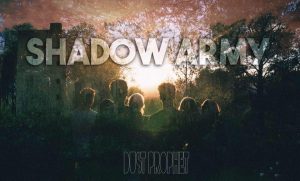 If you're a devoted AltCtrller, you may have noticed that two of the bands above were featured on our February 2019 compilation Volume Doom.  What better time than now to stream it or download??  Seize the moment!
For more from Alternative Control, find us on Facebook, Twitter, Instagram, Soundcloud, and bandcamp.
P.S.: Did you listen to our premiere of the new EP from UK punks Plastic?  You should check it out here, it's really good!