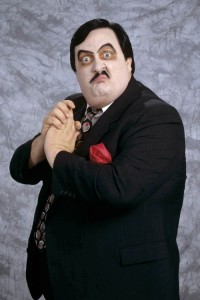 1 Paul Bearer, Rest in Perpetuity?
While CM Punk and The Undertaker make their argument for being the true main event at this year's WrestleMania, the recent passing of William Moody (who portrayed Taker's morbid manager Paul Bearer) is being utilized to further the angle and make it more personal. But we're rounding on the third Raw where this motivation is the heat behind the rivalry, is enough enough? Will this last for a month? Until the night of WrestleMania 29 itself? The moral implications call into question WWE's respect for the deceased, for certain. But myself, Shockmaster Grizz, and the Polynesian Papi Chulo Joemaga agree that Percy Pringle was a 'wrestling guy' who would more than likely have been just fine with the posthumous use of his character, as long as it furthered the product. Especially if he could see how great Punk is, taking the urn and running with it (figuratively and literally). And after all is said and done, it was recently reported that Paul Bearer's son (Michael Moody, not Kane) was approached and asked for his blessing to reference his deceased father on the air before the angle started. So it's not completely callous, right?
2 SCUM On, Feel the Noise!
While 'invasion'-styled stables are prevalent in all three of America's premiere wrestling companies, the most compelling of these angles might be on the smallest stage. Ring of Honor has gone completely nWo and made its SCUM group a dominant collection of talent, and a legitimate threat to the company that SCUM-leader and ROH World Champion Kevin Steen has tried to destroy from the inside. But is Steen behind the mad recruiting spree that saw Matt Hardy, a returning Jimmy Rave, a defecting Rhett Titus, and a debuting Cliff Compton put on their t-shirts? He backed off when Rhino assaulted Jay Lethal at the end of the 11th Anniversary pay per view and took no part in the festivities when literally seven top ROH names announced their membership and beat down the cream of the roster… this is possibly the most intriguing angle in ALL of wrestling at the moment. Become a Ringside Member on www.rohwrestling.com and watch ROH TV, seriously.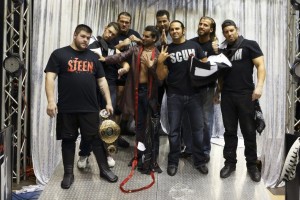 3 Hey, Yo… Little Help Here?
Scott Hall has been clean, sober, and in the care of former WCW colleague Diamond Dallas Page, whose help (and popular yoga program) apparently aided Jake 'The Snake' Roberts in his well-publicized struggles with substance abuse. Through their combined efforts, they've successfully raised over $80,000 for a hip replacement surgery for the Bad Guy, through a fundraiser that fans and contemporaries handed their hard-earned cash to. There are two ways to look at this; one is that the devoted fans have given back to someone who has suffered with a disease and who they have enjoyed as a performer. The other is to see one of the very first professional wrestlers to ever sign a million-dollar contract, who was one of three men to carry WCW above WWF in the ratings for the first time in the history of Monday night wrestling, and was given countless opportunities to rescue his career and livelihood over the years. On one hand, substance dependency is a disease; on the other, it's not cancer. Whichever side you tend towards, the wrestling community has come together and done a good thing for someone who's fallen on harder times than we can possibly relate to.
4 X Division Debacle
In TNA's history, a few things can be said to have made it unique (in a good way!); the now-defunct six-sided ring, the since-closed open channel with ROH's roster, the Knockouts Division and its superior women's wrestling, and the X Division. Remember? "It's not about weight limits, it's about no limits"? Matches inspired by the high-paced spot-heavy style that Rob Van Dam spearheaded as ECW Television Champion in the late 90's? The Ultimate X match, where the strap is suspended above the ring on cables that are used to Tarzan over and grab it? The classic 3-Way Dances between AJ Styles, Samoa Joe, and Christopher Daniels? Well, the rules have changed. No limits? How about a 230lb weight limit. And all X Division matches will now take place between three men. The wrestler who loses the fall will be pushed to the bottom of the X Division 'roster'. The individual who fights but neither wins nor loses gets another crack at it next time. So reward a guy who can't seal the deal? And last time I checked, the X Division WAS three guys! The old man RVD, the old man Christian York, and perennial loser Zema Ion. Let's not forget, of course, X Division Champion and ROH-turncoat Kenny King. In the debut of this ridiculous concept, long-absent X Division mainstay Sonjay Dutt showed up out of nowhere and, to be expected, took the loss. Now he can go back to not being on teevee. As a TNA sympathizer, I long for the day I can talk about them and not pan their product. But in this case, sorry guys, another bonehead move.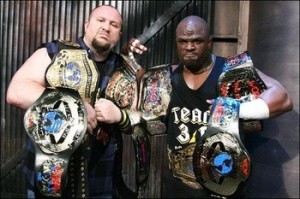 5 Welcome to Dudleyville, Aces & Eights!
I suppose I can show some support for TNA, in the fact that they revealed the man behind the entire Aces & Eights invasion was Bubba Ray all along. I'm almost okay with the fact that he fought A&8's tooth and nail to get to the big reveal. He's one of the legit toughest guys to work for Paul Heyman in Philadelphia, with a LOT of tough guys, so taking a beating's nothing new for him. I've even heard interviews where the APA were told by Vince McMahon himself to beat the piss out of him, in the ring, on the air, with thousands of witnesses; Bubba Ray not only took it but gave back. I'm almost okay with the fact that it was so predictable. Because it wasn't Eric Bischoff. It wasn't Jeff Jarrett. Who it was happens to be arguably the best mic worker on their entire roster, a guy who has literally incited riots at wrestling shows. Want to lend A&8's some credibility without dragging a used-up old name from a well-deserved grave? Bully's going to make this angle at the very least palatable.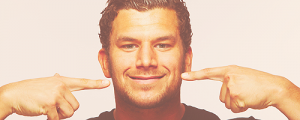 6 FAHN-DAHN-GOOOOOH
I love Fandango. I rolled my eyes with everyone else at the vignettes, I cringed that he was a Dancing with the Stars gimmick, I hated the fact that he was literally named after a movie-ticket-purchasing website. But now I'm SO on board. Firstly, because he comes out and denies the fans what they want, his much-anticipated debut. I love when they piss off the marks, myself included. Secondly, the wrestlers he's recently teased a fight with are all dancers in their own right, in Tensai, Great Khali, and Chris Jericho (of Dancing with the Stars fame, conveniently enough). So he's showing derision for dancing in wrestling… which is precisely what he does! And, dancing in wrestling is just about my favorite thing in the world (re: bWo, Human Tornado, Hakeem, Curry Man, so on). Thirdly, he does the Alabama Jam, courtesy of Bobby Eaton. Top rope leg drops are bad ass, hands down.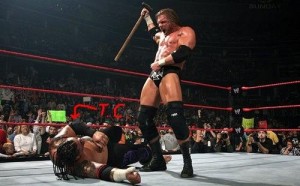 7 Levesque was Hammered
Recurring themes in wrestling always make me happy, when the writing team (or the wrestler him/herself, I don't claim to know who makes each storyline decision) brings something back from the character's past. It acknowledges the long and rich history of wrestling, which may be (and is often) conveniently forgotten. For instance, when alliances are forged between people who've tried to humiliate and cripple one another on more than one occasion. In this case, when Triple H flipped over the table after Paul Heyman's scintillating promo leading up to the contract signing on Raw, as Brock Lesnar stalked to the ring with a chair, The Game pulled from its underside a sledgehammer to even the score. I don't like Triple H much, but that shout out to his backstory and elevation of the intensity of the showdown were well done.
8 Big-Time Debut For Big E
It was all but confirmed during AJ's commentary stint on SmackDown that Big E Langston's in-ring debut will not only be at WrestleMania, but in a title match, the Tag Team Title match against Team Hell No (for whom I consistently mark out). Isn't that a little bit of a jump from bodyguard status? How do Ziggler & Langston deserve a title match without having defeated legitimate contenders? I know Team Hell No have beaten Team Rhodes Scholars and the Primetime Players… so the Usos, International Airstrike (do they still let Tyson Kidd wrestle?), even the Baby Belugas (what did JBL call them? The Round Mounds That Like to Get Down!), none of these teams deserve to put on the match of their lifetimes at the Granddaddy of Them All? At least Dolph Ziggler's wrestling on the card, not waiting backstage to cash in that damned briefcase.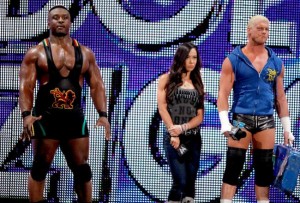 9 Speaking of Storylines Resurfacing, and Ziggler & Langston
IF Ziggler & Langston are going to challenge for the tag belts, at the very least the history AJ has with the defending champions is being utilized to add fuel to the fire. Her romantic intrigues with both the American Dragon and the Big Red Machine over the last year, centered around this past summer's 3-way feud over CM Punk's WWE Championship, have resurfaced as her current beau plans to ruin her exes' reign. I dug her prancing around the ring, and the fact that it didn't faze Kane in his victory on Raw. This could make a program that seemed forced to me, in order to give Ziggler something to do, much more compelling.
10 Joemaga Gold
As a tenth topic for this week in professional wrestling, I have to once again publish my broadcast colleague Joemaga's AWESOME team names for the absurd and unnecessary pairing of Randy Orton and Sheamus. And to a new audience, for those of you who haven't yet listened to Rope Break. Anything is better than Celtic Viper, right? What sense does that make? How about Team R.K.Brogue? A laudable shout out to Rated RKO, I'd say. Maybe Gingerstrike? Is that too derogatory for the Be A Star youth anti-bullying campaign? In the precise words of Joemaga, "was Whitesnake taken?"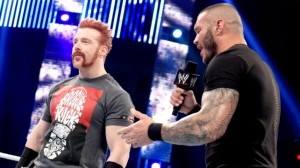 Thanks for reading! Check us out on Soundcloud (Rope Break featuring Joemaga and Shockmaster Grizz) and if you haven't yet perused Alternative Control, check it out! All kinds of music and book reviews, food and beer articles, and whatever can be called style in suburban Connecticut.