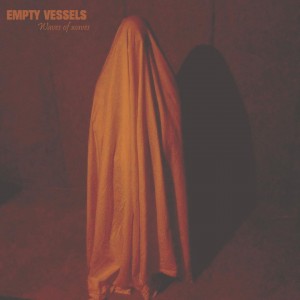 What is hardcore music?  At age soon-to-be-29, I think I'm finding out.  I had pictured it involving a lot of visors, "junt-junts," and guitar players squatting angrily while playing their riffs.  But as it turns out – I think – it's much more punk than I'd imagined.  Judging from some random shows at the Heirloom, it also can involve skinny jeans and a guy wrapping his microphone cable around his neck.
To be fair, I don't know what kind of jeans Empty Vessels wears or if their singer likes to strangle himself.  And that's not really the point anyway.  All I know of Empty Vessels is the CD in my car, Waves of Waves.  On my way to my very non-hardcore job as a middle school English teacher, I like to play Waves of Waves at an enjoyable yet non-hardcore volume.
My favorite track is the catchy opener "Viking Song."  That one and "Everything's About Michael Cera" betray a hint of surfiness – who is Michael Cera, by the way?  Am I supposed to know that?  "Salem" is another good track, sounding almost metal at the end.  And "Saucer County" is a definite headbanger – I can't understand too many of the words, but I think it's about getting abducted by aliens!  The New London band's arrangements are sparse – but what they leave out in complicated riffs, they make up for in their delivery of this vague, gnashing-of-teeth feeling.  It's enough to make a teacher pull out of the school parking lot just a little faster than she should.
One question I have is how Empty Vessels and Heavy Breath (the last band I reviewed) can both be "hardcore" but sound so different. I guess it's a broad genre.  The bands' music had some of the same features, but  Empty Vessels was heavier on the punk aspect, making it more accessible for a random metal fan/boring adult.  But regardless, there's something visceral and irreverent about this kind of music that appeals to me.  If I had heard either Heavy Breath or Empty Vessels' version nine or ten years ago, I might have ended up like the young people dancing in a circle below:
The verdict?  Waves of Waves is straightforward, angry fun.  If you get a chance to see Empty Vessels, you should go out, drink a few beers, and dance around in the circle – even if you are almost twenty-nine and a teacher.
Upcoming Shows
3/24 at Firehouse 13 in Providence, RI with DYS and The FU's
3/29 at C Note in Hull, MA with Energy
4/13 at Cherry Street Station in Wallingford, CT with Yuppicide, The FU's, Powerblessings, Neighborhood Shit, and Led to the Grave
4/27 at Tuxedo Junction in Danbury with The Misfits, Sheer Terror, 100 Demons, Subzero, Incendiary, Rude Awakening, and Make Amends – Cancer Benefit for Trista Vaughn, tix available here.

Empty Vessels is Matt on vocals, Allison on guitar, Dean on bass, and Justin on drums.  Check them out on Facebook, ReverbNation, and their official website!