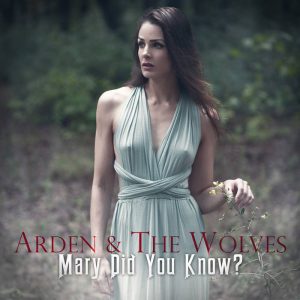 The modern Christmas classic "Mary, Did You Know?" was originally recorded by Christian singer Michael English in 1991.  Since then, the song has been covered many times — notably by Clay Aiken, Pentatonix, and Wynonna Judd and Kenny Rogers performing a duet version.  The latest band to put their own spin on it is LA rockers Arden & the Wolves.  Frontwoman and band mastermind Arden Leigh has an intimate connection to song, explaining:
I first had the idea to cover Mary Did You Know because I wanted to listen to a gothier version of it that didn't yet seem to exist. I first sang it when I was 17 at my Catholic high school's annual Christmas festival, accompanied on piano by my music teacher, and I had chosen it even then for its dark, haunting melody. I couldn't believe that in the years since someone hadn't made a darkwave version of it, and I felt an eager pull to fill that gap.

It seemed like a perfect interim project to embark on while I was still letting the dust settle after February's release of the Who Can You Trust EP, a way to keep creative momentum before returning to songwriting for the gestation of the next album and all its attendant narrative decisions.

And that was supposed to be it.

Arden goes on to explain the connection between her spiritual beliefs and a therapeutic course she has developed called The Re-Patterning Project, which is "an 8-week group incubator for resetting beliefs and habits formed by trauma," social conditioning and epigenetics (the passing of trauma from one generation to the next).
And that eventually leads us to "Mary, Did You Know?"  Arden says of the song and video,
This song is my Christmas gift to you, for whatever holiday you choose to celebrate, if any at all. It's a spell to remind you that even when your path seems darkest, you have all the power you need within you to catapult yourself into the light. You can heal everything in your body that came before you, and the more you heal yourself, the greater healing you bring to the collective. Miracles are real. Happy holidays.
The video is heavy on sheer dresses, but Arden's voice is undeniably powerful.   I could have used more holiday scenery and less gratuitous "thoughtful" shots to compliment the drama of the arrangement.
Check out some of Arden & the Wolves' original music below:
Connect with Arden & the Wolves
And for more from Alternative Control, find us on Facebook, Twitter, Instagram, Soundcloud, and bandcamp.
This post was sponsored by Independent Music Promotions.  All opinions are our own.