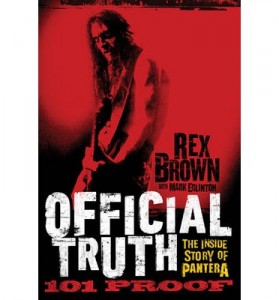 I grabbed this book the second it hit the shelf because I wanted to know the story of Pantera from the perspective of its quietest member, former bass player Rex Brown.  All I knew about Pantera were assumptions formed by a series of band interviews and tour videos from over the years.  Official Truth, 101 Proof reveals Rex's personal life, the glory of the Pantera days, his struggles with addiction and the drama surrounding Dimebag's funeral.
The book's prologue starts out with, "Dime, I can't handle your fucking brother."  Rex trash talks Vinnie Paul throughout the book and for that reason alone you need to check it out.  But first, we learn about his upbringing in a small town in Texas where he was influenced by music from an early age.  His father died young and his mother was ill so Rex was shuffled between different family members, almost foreshadowing the transient life he was destined to lead.  In high school he joined jazz band where he met Vinnie Paul Abbott and subsequently his brother Dimebag Darrell.  They jammed and recorded in their father's studio who, as exposed later, lined his pockets with plenty of Pantera's earnings.  Rex rectified that situation by educating himself on the music business and it served him well in both Down and Pantera.
The book blasts through the Pantera albums leaving me thirsty for more details.  Rex writes about how the strong, proud personalities and musical chemistry between band members made them an unstoppable juggernaut.  While on tour most of the year, the band often kept busy by drinking and playing pranks, usually led by Dimebag.  Rex refers to these times as "controlled chaos."  It was interesting to get a sense of who Dimebag was, misperceptions about Phil Anselmo, to find out what ever happened to their body guard Big Val, and to get an idea of the vast amount of money and fame they achieved.  There's no shortage of pictures of Rex playing bass — but hey, it's his book so he can do that.
Rex attributes the fall of Pantera to addiction, egos, lack of communication and the tragic death of Dimebag Darrell – a true loss, as he was not only the most talented and soulful guitarist of our time but an amazing person who was full of life.  The rigors of the road and the rock n' roll lifestyle have taken their toll and left Rex with numerous medical issues.  He lives with chronic pain as the result of a lifetime of partying, but he also has the resilience and appreciation for life to carry on in a healthy way.   Overall, Official Truth, 101 Proof is a great read about one of the best metal bands of all time.