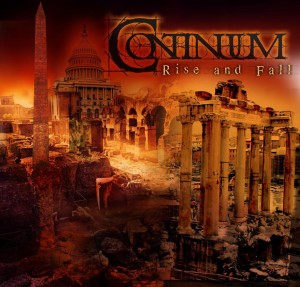 In my opinion, a band is great when they can not only showcase their musicians' skills, but do so in the confines of composing enjoyable songs. A lot of people can shred but what they write might be bland wankery. And a lot of people write great hooks but don't blister faces with solos. With their most recent effort, Rise and Fall, Continuum proves to be a great talent, a local juggernaut that can hang with national acts when given the opportunity.
The name Rise and Fall is appropriate for many reasons. The lyrics depict protest and futility, challenge and failure, fighting and dying. The songs rage and woefully wail, the vocals barrel forward with guttural intensity and lament with eerie, wind-carried melodies. These changes during the course of the tight, 4-minute compositions are abrupt but not jarring; they're tasteful, appropriate, and interesting. A song that embodies this duality is "Dead To Me," which starts with a speedy drum fill and immediately encounters a melodic death metal feel. Next it enters heavy, breakdown-like riffs with brutal growling, but then the chorus hits and it sounds almost like galloping power metal. These songs are the well-adjusted children of a happy, healthy marriage between groove-oriented extreme metal and triumphant, accessible melodic music.
In our rich Connecticut metal scene, I've had the opportunity to discuss/review wonderful female musicians on numerous occasions. Our Esteemed Editor Jessie May, bassist of Stamford's outrageous hard rock trio Pink Missile, and Brandi Hood, drummer for polished powerhouse Crossing Rubicon, leap to mind. Brenda St. Amant, vocalist for Continuum, is more impressive than most (man or woman) as an aggressive metal frontperson. The power with which she growls contrasts sharply with the fact that her clean vocals are crisp and clear. She manages to sing with command employing either technique, and if I hadn't seen it in person at Cook's Café, I'd have trouble believing it was the same person. The most impressive thing is that she alternates between the two frequently, even in the middle of a vocal line at many points.
A brilliant showcase for this singular talent is my favorite track on the album, "Embers." Haunting and almost wilting clean vocals give way to imposing screams while the rest of the band supports with a subtle and intricate structure. Bold it may be, but I'd put her up there with an Angela Glasgow without hesitation, and she'll go from that outright brutality into spotless singing (and back) in a blink.
Darrin Yardley is a beast on drums. In a scene that yields a handful of spectacular drummers, his work on Rise and Fall measures up and stands out. His playing excellently accentuates the moodiness and conflict in these pieces, and he plays with a ton of character, it's incredibly distinct. His double bass on "Bleed Us Dry" is impressive, but not excessive. "Bleed Us Dry" is also a great song to keep an ear open for bassist Tony Mica; he does a terrific job on the whole album, but this track gives a great opportunity to hear how much he adds underneath a forcibly heavy composition. This rhythm section is a rare treat, in a band that excels in every way.
Bryan Reilly and Jason Niezgorski are both listed as Lead Guitarist, which speaks for the brotherhood that a band this tight necessitates. I've only had the pleasure of seeing Continuum on one occasion, and can't speak for which guitarist does more of one thing or another; I have no idea which individual's influences inform which parts of any song, but I can say without a doubt that they're both beyond capable. From thrash-inspired heaviness to the creepiness instilled in slower sections, everything is executed with precision and passion. I can't strongly enough suggest checking this band out live, any opportunity you get. (For instance, May 31st at Cherry Street!)
That said, the recording of Rise and Fall fails to capture their full-on performance. If you can look past the sound quality on the disc and listen for the music, you'll be rewarded with what is one of the best offerings I've heard from a local band in years. But to avoid someone hearing Rise and Fall and deciding against seeing the band because the album came out sounding less than perfect, I have to insist that people check Continuum out in person. They perform with incomparable energy, and it would be an improper representation of their work to hear the CD and judge them strictly by that.
Continuum has several upcoming shows where you can do just that:
April 5 w/ Kayotik and Mortifica at the Winchester in New Haven
April 14 opening for Sevendust and Lacuna Coil at the Webster in Hartford
May 31 w/ Kayotik, Eyes of the Dead, Lyra, Pink Missile, and Burn the Bodies at Cherry Street Station in Wallingford
Check them out soon — you will definitely be impressed!