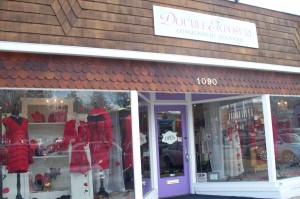 The rent is high, the highways are slow…  But one good thing about living in Lower Fairfield County is the classy consignment shops.  This weekend I visited one of my favorites, Double Exposure in Darien.
Double Exposure is not a thrift shop. You can buy Gucci handbags there, Prada heels, or even a mink coat, all priced accordingly — but there are still plenty of affordable and unique items to choose from.  They have a large selection of shirts, sweaters, jeans, skirts, and eveningwear, all in like-new condition.  Plus, their array of funky jewelry, scarves, shoes, and hats will please any shopper.  (Nicole Monroe, let's go!)  In an unusual twist, they also sell "Bee Wares": honey, lip balm, lotion, candles, and soap made by local beekeepers. Owner Mern Palmer-Smith donates the proceeds to bee research.  (Did you know that honeybees are, like, going extinct?  We're fucked…)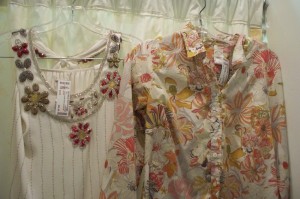 But anyhow… I was in the mood for some new tops, so I tried on a couple hipster-looking button-downs.  A black tank with lacy trim also caught my eye, as did a flashy bejeweled halter-top.  That one turned out too flashy to wear a bra with, so it ended up back on the shelf.  However, I did come out with two "new" shirts: the black tank (Talbots, $16), and a paisley blouse that will add some interest to my boring work wardrobe (Saks Fifth Avenue, $28).
The fun of second-hand shops is that you never know what you're going to find.  There are some places where you have to dig through a lot of smelly, strange-looking clothes to find the gems (Stamford Goodwill, anyone?), but at other places, you want to take home half the stuff in the store.  Double Exposure is definitely in the latter category.  If you go for a visit, you'll come out with a shopping bag!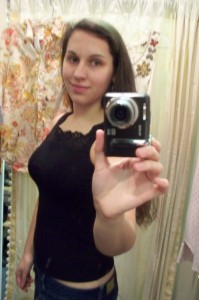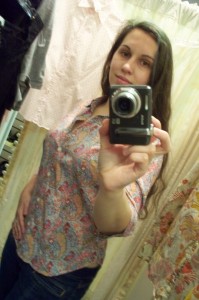 Double Exposure is located at 1090 Post Road in Darien, CT
(203)655-8799
Open Monday-Saturday, 10 a.m. to 5 p.m. and Sunday 12 p.m. to 4 p.m.
Visit their website to read their consignment policy.