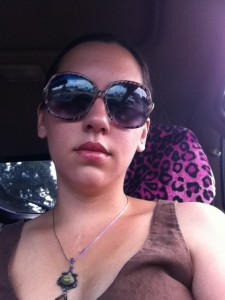 I'm unapologetic about my musical tastes, so most of my guilty pleasures are fashion-related.  And TACKY.
My first guilty pleasure is shopping at thrift stores and consignment shops.  Yes, there's the money-saving aspect, but I'm really in it for the hunt.  When I went to the Darien Community Association Thrift Store the other day and found a beautiful dress for five bucks, I felt like GREAT SUCCESS.  Then I went down the street to Double Exposure, my favorite consignment shop, to look for a bathing suit cover-up – and bought shoes, a hat, a purse, and a scarf to go with the dress… But no cover-up.  Oh well, maybe next year…
My next not-so-secret delight is gratuitous animal print.  I have animal-print-everything.  Leopard cell phone cover.  Leopard skirt.  Leopard underwear.  Pink leopard seat covers.  Pink zebra sunglasses.  Animal print is so deliciously white-trash, and I love it.  Sorry.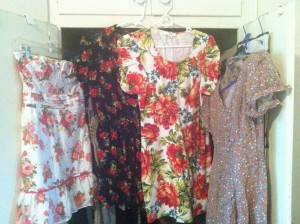 That leads to another fashion obsession: flower print.  I don't wear dresses too often, but I own at least four flowery frocks.  (Ooo, another guilty pleasure: annoying alliteration!)  My flower fixation may have led me into Charlotte Russe to buy high-waisted shorts covered in neon pink petunias.  I don't know whether I went there in spite of the fact that my eighth grade students shop there, or because of it.
But my ultimate guilty pleasure isn't related to clothes.  In fact, this one is better unclothed: young Patrick Swayze.  Like, have you seen Roadhouse?  Or Dirty Dancing?  Or even The Outsiders??  Oh man, that Darry…  He could boss me around any day!  I definitely had a picture of "Darry" posted behind my desk all year – and a shirtless Pat pic tucked into my gradebook to give me extra encouragement on tough days.  Hey, YOU try getting thirteen-year-olds to care about the Common Core!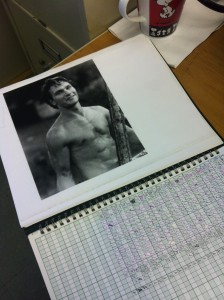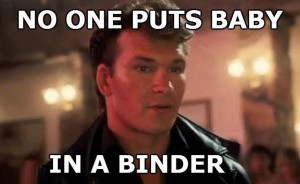 That's all, folks.  Now excuse me while I put on my leopard-flower tutu and head out to Goodwill… What are some of your guilty pleasures??