Second-hand shopping has been a hobby of mine since I was a teenager back in ol "Mecca of the Universe" Branford, Connecticut.  My stepmother Gina and I made regular pilgrimages to the Homemaker Thrift Shop to see what treasures we could uncover, chasing the thrill of finding a great pair of jeans for $5 or a cheeky vintage tee in the dollar bin.  Then I attended college in Danbury and got most of my wardrobe from the Main Street Salvation Army, which was like the World Mall of of all thrift shops.  Two floors!
So when a new Goodwill opened on the corner of Elm Street and Shippan Avenue in Stamford, I had to check it out.  Anybody who's been to Stamford's other Goodwill, near downtown, knows that it's not exactly an ideal shopping experience…  Thankfully, this new Goodwill is nothing like it.  It's spacious with plenty of parking, and doesn't have that "thrift store" smell.  (You know what I'm talking about.)  And most importantly, the Shippan Goodwill has great stuff!
Today was my third and most successful visit since the store opened this February.  I needed a "new" dress for a fancy party this summer and ended up with three.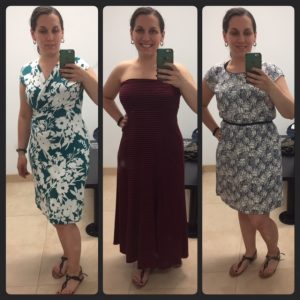 I also needed a pair of shorts and some odds and ends for the apartment.  Here is my entire haul, which cost $49 and change.  The Loft dress on the right probably cost at least that much new.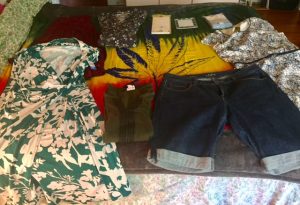 If you want to try your hand at thrift store shopping, here are some tips that have served me well:
Inspect for damage.  Loose buttons or small tears on seams can be repaired, but never buy anything that's stained or pilled.
Look at the label.  Choose brands that you know to be high quality; factor the brand into the price you're willing to pay for an item.  A Talbots dress will last a lot longer than one from Forever 21.
Read the care instructions.  Do you really want to purchase something that's dry clean only?  Maybe, maybe not.
Get a Goodwill discount card.  You get 5% off purchases over $20 and special perks during your birthday month.
Try consignment.  Consignment shops are usually more expensive than Goodwill-esque places, but you can find really unique clothes for a fraction of the retail price — especially in lower Fairfield County, where rich ladies rotate their closets often.  My favorite consignment shop around here is Double Exposure in Darien.
Buy pieces that work with your wardrobe and style.  In my college years, I ended up with a drawer full of thrift store skirts that I didn't wear because they didn't go with any of my shirts or shoes.  Do as I say, not as I did!
Only buy what fits.  Part of the purpose of thrift store shopping is to be thrifty; paying for something you can't wear right now doesn't make sense.  When you lose the weight, come back and buy something else.  And on that note, you look fabulous they way you are RIGHT NOW.  Buy things you can wear RIGHT NOW.  (I had to repeat this to myself today while trying on an adorable Ann Taylor sundress that wouldn't zip all the way…)
Did I miss any thrift-shopping tips?  Comment below and let Alternative Control your know your favorite secondhand stores to shop!