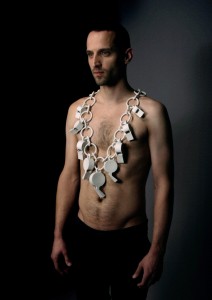 By Nora Lewis Allen
Photography by Louise te Poele
Originally published in The Mercurial, 1/4/12
Rarely do art, music, culture and collaboration come together as flawlessly as they do in Audiowear, the latest project from Elasticbrand, a multi-dimensional design studio founded in Brooklyn, New York in 2006.  Audiowear, a collection of aerophone and idiophone musical jewelry that mimics actual instruments and can be played as such, includes a Trumpet bracelet, a Guiro cuff, a Whistle charm necklace, a Pan-flute collar, a Rattle bracelet, Xylophone bangles and a hip hop album created with Audiowear sounds.
Elasticbrand takes a very unique approach to their design conception and aesthetic.  Its founders, Arjen Noordeman and Christie Wright, both come with a long list of impressive accolades attached to their names and have worked for mass-market design companies like West Elm, Willams-Sonoma and Nickelodeon among others.  The Elasticbrand website describes a multi-dimensional approach that focuses on "brand identity design and positioning its application to various design outcomes."
Noordeman described their work via email as "always functional," but emphasized that Elasticbrand doesn't just equate functionality with modernism by default.
"It's not design that is devoid of vibrancy and personality," he explained. "Not 'form follows function' so much, but perhaps something like 'form follows personality.'"
But what then drives this design concept?
"We really like to deep dive into our subjects, figure out what motivates and drives the client, the musician, the film maker, whoever we work for. Why did they set out to do this, what makes them tick?"  Though this idea is certainly not unique to Elasticbrand as a client-driven company, their dedication to producing multi-faceted, progressive "experimental executions" is.
Audiowear came about from one such experimental inspiration.  Wright, who has an MFA in Ceramics from Cranbrook Academy of Art among other degrees, and Noordeman wanted to combine their love of ceramics and hip-hop into one wearable and playable jewelry collection.  After using Rhinoceros®, a Windows-based 3-D design software, to design six instruments that would bring out the acoustic quality of the clay, they printed the models on a 3-D ZPrinter 450.  The models were then used to create plaster molds that would create a ceramic form when liquid porcelain was poured into them.  After firing the pieces, they were able to use them to create an archive of sounds.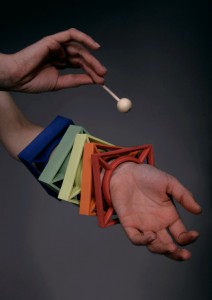 Noordeman and Wright, who describe themselves as "multi-faceted creatives with varied interests and specialisms" wanted to create at least one full-length song incorporating the Audiowear pieces from the genesis of the project, but didn't expect to make an LP.  When they started reaching out to producers and MCs, however, the response was so enthusiastic that they decided to challenge themselves to make a full-length album.  This unrestrained creative spirit seems to be a cornerstone of the Elasticbrand philosophy—Noordeman and Wright originally tried to make their record out of clay.  After conducting many experiments attempting to cut sound into a clay plate, they settled on white vinyl.  
"While it was actually possible, there were two main problems: the grain of the clay material was so coarse that it overwhelmed the music in the grooves so you could barely hear it at all," Noordeman mused. "Secondly, when you fire clay it shrinks 20% and the grooves become too narrow for the needle to get into."
 Rising Sun Quest, a prominent local rapper based inWaterbury and one of the artists who Elasticbrand reached out to for the album, talked via phone about his experience on working on the project and with Elasticbrand, who had previously produced two of his music videos.  
"When I first heard about the idea I wanted to be a part of it more so because it was Elasticbrand," Quest said.  "In general the Audiowear project is an interesting idea, but through the enthusiasm [Elasticbrand] had for the project you could tell it was something they were really passionate about.  As an artist I definitely could appreciate that they had a vision and went after it."
Many others have also recognized this passion.  Elasticbrand was able to raise $4,445 through Kickstarter, the world's largest funding platform for creative projects, to fund the Audiowear project from 57 individual backers, one of whom pledged in the "$1,000 or more" category. Though Elasticbrand operates primarily in the U.S. and The Netherlands, the international reception has been wide and welcoming.  The project has received favorable reviews in magazines and blogs from countries including Hong-kong, the United States., Brazil, Russia, Portugal and more. An orchestra in Israel bought two sets of Audiowear  Xylophone bangles, and many other pieces were sold around the world on Kickstarter to raise funds for the vinyl record.  Moreover, the Museum of Art & Design in New York acquired the entire Audiowear line for their permanent collection.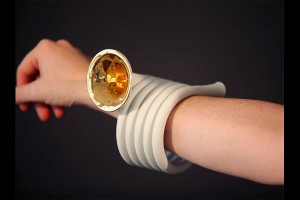 Quest's song, "I'll Rhyme Now", appears on the LP. After an intense period of writer's block, he said his rhyme came to him immediately after he heard the beat incorporating the Audiowear sounds, produced by Dirt E. Dutch.
"Before I got the beat all I had heard was the musical instruments," Quest explained. "I didn't see the potential in the sounds—they're cool sounds when you think that they're coming from jewelry, but I was really impressed by what Dutch did with the beat." The LP as a whole is a conglomeration of eclectic beats and individual expression, an outcome that directly identifies with Elasticbrand's goals.  
Noordeman happens to agree.
"The value of working with artists across different mediums to me is that you make unexpected connections that command attention," he said. "What is more stimulating to an audience of any particular niche than to see the genre they are accustomed to seeing in a completely new context?  Combining ceramic product design with music, and then particularly with hip-hop showed both the ceramic and hip hop communities something that completely surprised them."  
Quest believes that Audiowear will appeal to anyone with an open mind:  
"A brief description should peak a lot of people's interest and it will appeal to a lot of people if they're willing to take in a strange idea or something that isn't normal and willing to find out about it."
Fans of Elasticbrand will be happy to know that Noordeman and Wright are currently developing concepts for another line of jewelry, but one that is inspired by "entirely different things", according to Noordeman.  Their next project to be released is a large multimedia print design project with Brooklyn-based musician Michael Hearst.  The book, Unusual Creatures, is the first phase of the project and will be published in 2012.
For Quest, his favorite part of the Audiowear project was working with the people involved, and in terms of Elasticbrand, the difference between the passion of Noordeman and Wright and the projects they produce is almost indiscernible.  When thinking about how Audiowear translates to a greater public dialogue and daily life, perhaps Caits Meissner says it best in her video on the Audiowear Kickstarter page:
"How do you make life more beautiful? How do you make your day more beautiful?  How do you make existence more beautiful?  What if you wore something you could play?  Instant joy."
For more information about Audiowear and Elasticbrand, visit elasticbrand.net.  To listen to the Audiowear album, visit soundcloud.com/elasticbrand.