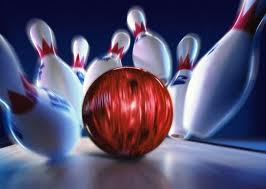 Are you tired of hanging around your house drinking?  Or going to a restaurant with your friends, sitting there staring at each other, and drinking?  The solution might be to pile everyone into a couple cars and head to the nearest bowling alley.
Last night, a few friends and I went out bowling at Rip Van Winkle Lanes in Norwalk.  I loved bowling as an elementary-schooler, but then went through a twenty-year period of thinking it was dorky — something for little kids' birthdays, or an activity for non-custodial parents to do with their offspring when it was "their" weekend.  Turns out that if you add a couple pitchers of Sam Adams and give yourselves goofy names on the score-keeping TV, it's a blast! I did better on my first game (79 — wow!) than my second (don't even wanna know), probably due to the Sam Adams…
While a trip to the bowling alley does involve paying for something other than alcohol, it's worth it in the long run.  At Rip Van Winkle, shoe rental plus two hours of bowling costs $20 per person Monday-Thursday before 5pm; then it goes up to $24 per person after 5 pm and all day Friday, Saturday, and Sunday.  Luckily, we walked in on a Saturday deal where games were $9 per person until 7pm, so it didn't cut into our booze funds too much.
We also ordered some appetizers and sandwiches, which were reasonable priced and pretty good.  Fries in particular were nice and crispy!  Service was a little slow and the bar smelled like a toilet — but hey, this ain't the fucking Ritz, it's a bowling alley.  I've had much worse times at better-smelling places.
After a couple games, we went back home and drank more; the word at Dionysus was, "Wow, bowling is so much fun!  We should do that again soon!"  It was time to herd everyone out around midnight when "Scotty Peeps" started kicking the walls in my kitchen — but I guess that's how you know it was a good night!
Rip Van Winkle Lanes is located at 701 Connecticut Ave. Norwalk, CT 06854
Call (203) 838-7501 for reservations and lane availability.

Hours
Monday Noon – Midnight
Tuesday 9:00 a.m. – Midnight
Wednesday 9:00 a.m. – Midnight
Thursday 9:00 a.m. – Midnight
Friday Noon – 1:00 a.m.
Saturday 9:00 a.m. – 1:00 a.m.
Sunday 9:00 a.m. – 10:00 p.m.