This is Death Metal Dave here, filling in at Alternative Control to shed some light for all those posers out there on how to properly support the metal scene. I see so many losers come to local shows that just don't know and don't realize how important it is to support the scene properly.  It ain't about the beer or the mosh pits, or even the music. Every true metalhead knows it always was and always will be about one thing: vests, muthafuckers!  And they can't be just any kind of vests either. They've got to do their part in showing everyone else at the show just how true you are. You can talk all you want about what's metal and what's not, but it's easier just to let the vests do the talking for you, and to avoid conversation at all costs. Patches are important to give your vest its distinct identity.  But you can't just throw any kind of patches on your back and expect to be respected — your distinct identity has to match exactly with all your true metal brothers if you hope to be included in the scene. Posture also plays an important role, and I'm gonna get into detail about this and more, so you know exactly what to do when another 13-band showcase rolls around on a Tuesday evening at 5.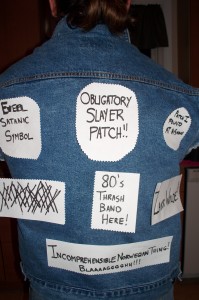 Since I got a neck brace on as a result of supporting the scene too hard, I unfortunately had to get that fucking prog-loving poser and pussy Christopher Baldwin to play model for me. And because he refuses  to come out and support the scene with me here at a local show in Wherethefuckisthat, NY because of a very reasonable 75 mile drive, he had to improvise his own vest to help show what I'm talking about when I say that it's essential to choose the right patches.
As you can see from the picture, it's okay to put on a patch that you found at a show, given that the band name falls under the following list:
Also note that any black metal logo you put on your vest should be entirely indecipherable. Being able to spell out the name is the sign of a true poser. And under no circumstances do you not reserve the place at the top center of your vest for anyone except Slayer, the greatest music made since Beelzebub first picked up a fiddle.
Next, I need to tell you about appropriate posture. There are three very simple rules to follow, and the pictures should give you an exact understanding of what I mean.
1 – Your legs should be at least 2 feet apart at all times.  Annie (the prog pussy's loser friends' cat) acts as a great ruler in this demonstration, by showing you what 2 feet apart actually looks like. You can absolutely go wider, but never shorter. And watch the seam in those jeans if you're one of those types that can stretch them out really far. Remember, stretching too far means you're sacrificing a lot of your buttress power in the push pit.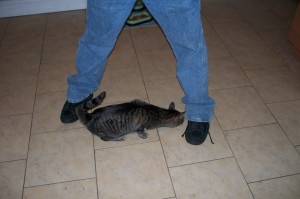 2 – Where you stand really doesn't matter too much. Just make sure that you face the stage at all times, only slightly glancing behind you now and then to make sure people are supporting the scene. It is absolutely essential however that no matter where you decide to stand, that you are standing directly in front of somebody much smaller than you are. This way, you can block their view of the stage. It's a way for us true metalheads to exert our authority over people who fall under the following categories: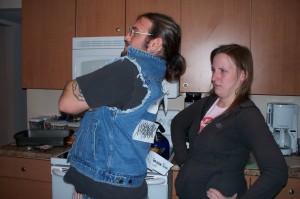 3 – Arms crossed at all times. I can't stress this enough. There's various reasons but most importantly it helps beef up the biceps, and makes those glorious sleeve tattoos pop out. Also, it helps to keep those man-tits of yours from flopping out unattractively like Santa Claus sacks filled with mucus. The facial expression entitled "Angry Muppet" (thank you, Kurt Balogh) should coincide with this stance at all times.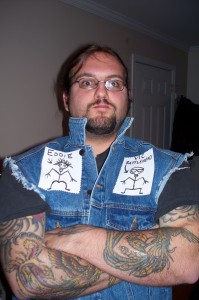 Well, that's about it. Conclusions are for posers. Stay true! And also this: BLAAARRRGHH!!