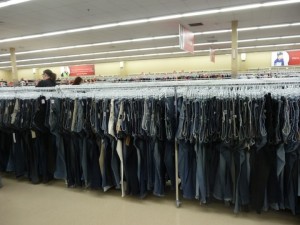 By Allie McConnell
Originally published on The Mercurial.
The 1980s and 90s are alive and well at the Savers secondhand store, now open on Federal Road in Brookfield, Connecticut. The Brookfield store joins the Savers locations in Waterbury and Orange, representing the chain's expansion in western Connecticut.
Savers' public relations company, Edelman, contacted me when they read my personal blog and saw that I am interested in vintage clothing, thrift shopping, and sustainable fashion. I was invited to the store's VIP preview event on Tuesday, September 25. Edelman offered and sent me a gift certificate for the store.
The Savers chain of thrift stores was founded in 1954 by William O. Ellison in San Francisco, California. Ellison's grandfather and great-uncle, Ben and Orlo Ellison, had been instrumental in setting up the Salvation Army's thrift store operations in the 1930s and 40s, according to Savers' website. The chain is still privately owned by Ellison's son, Tom Ellison, and a private equity firm.
Savers expanded into Canada in 1980 and now also operates in Australia, totaling more than 270 stores around the world.  Savers stores partner with local non-profit organizations to by paying the organization in exchange for donated goods. Savers stores also sell new closeout items in addition to secondhand donated items. The Brookfield location will be partnered with Big Brothers Big Sisters of Southwest Connecticut. According to Savers' press materials, the chain has provided over a billion dollars to their non-profit partners in the last 10 years.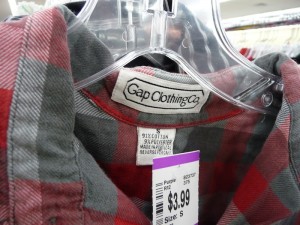 I asked Savers publicist Rachael Odom about the life cycle of goods that are donated to the stores. Specifically, I mentioned that I was aware of concerns from environmentalists and humanitarians about clothing and textile waste being dumped on local economies, or simply warehoused, in developing countries.
Odom explained that items that are donated but are unsuitable for sale at Savers stores, or items that don't sell, are in fact sent overseas, or sold to material wholesalers here in the U.S. "who recycle the products into new materials such as wiping rags, car insulation and much more." Odom further explained in an email that "for unsalable clothing, Savers responsibly recycles and sells goods into the global marketplace through both wholesale and philanthropic efforts. It is important to note that Savers does not export merchandise to any countries that do not openly allow or desire the importation of used clothing and household items."
According to a 2011 article on EcoSalon, after sorting at a secondhand retailer, the best quality and most desirable of  leftover clothing is made available to international vintage dealers, particularly in Japan and Europe. The still-wearable-but-nothing-special clothing gets sorted for shipment and sale to clothing dealers in developing countries. And the unwearable gets sold to and processed by ragtraders, who literally make wiping rags for auto repair shops, cleaning companies, and manufacturing operations.
That whole process is open to ethical debate, but that's another article for another day.
At the preview shopping event, Savers staff and representatives of Big Brothers Big Sisters were on hand, welcoming shoppers with cookies, sparkling cider, and some of the most attentive in-store customer service I have experienced outside of Hermès.
I met store manager Jack Sferlazza, a Brookfield resident, who graduated from New York's Fashion Institute of Technology and is a veteran of the textile and garment industry. I got the impression that the store will be in good hands with Mr. Sferlazza.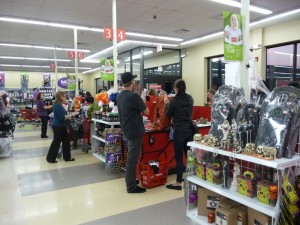 Just inside Savers is a special department dedicated to Halloween costumes and decorations, all of which appeared to be new merchandise. Housewares and décor items are neatly displayed and categorized. Small items are grouped and packaged and displayed on wall hooks. Even the books are shelved according to genre.
Of course, by far, the majority of the store's floorplan is dedicated to apparel. There are men's, women's and children's departments, categorized by type and size. The sizes for women's clothing range from extra-small to well into the plus sizes. I would have appreciated more fine-tuned organization by color, as Goodwill does it, but overall the presentation was easy to navigate.
The footprint of the store is much larger than either of the area Goodwill stores. The aisles are wide enough for 2 shopping carts to pass each other, with some driver skill. The fitting rooms at the front of the store are relatively spacious and well-lit. Seven registers are available for check out. The pricing is comparable to Goodwill—that is, much higher than the Salvation Army—and it seems to reflect the fabric quality and the label.
There are dedicated parking spots for curbside donation at the separate door to the left of the main entrance. Donations can also be dropped off at Big Brothers Big Sisters in Norwalk, and home pick-up can also be arranged through the organization online here.
Time will tell if Savers' staffing levels and scheduling will ensure the store stays neat, clean and organized. I expect them to fare better than the Goodwill or Salvation Army stores, the latter of which relies more on volunteers to round out their staffing needs (and unfortunately the shopping experience suffers for it).
So, what did I find? Some brightly patterned vintage bedsheets that I will repurpose into my clothing designs, as well as lots of thread and sewing notions. I saw a pair of Christian Lacroix jeans, and I beat an undercover designer dealer to a really nice Ralph Lauren tweed jacket. I also took home a striped linen Loro Piana blouse—look it up, it's top of the line, made in Italy.
There are racks upon racks of denim, if you're dedicated (or desperate) enough to look through them all for the right cut. They are displayed almost sideways, with the waistband facing out so you can easily read the size tag. I noticed that the Salvation Army Family Store also recently switched their denim presentation to this format.
The 80s and 90s are well-represented in women's sweaters and blouses, as well as Forever XXI and other mall brands. But better bridge priced lines (Gap, Banana, Talbots, et al.) and designer labels are plentiful, too. The most fun about shopping secondhand is that the stock turns over every day, so it's a constant treasure hunt. And it's all for a good cause.
Savers is now open at 99 Federal Road in Brookfield, CT, across from Kohls. Phone: (203)775-5910. Hours: Monday through Saturday, 9am to 9pm, Sunday 10 am to 6pm.  Visit Savers online at savers.com.
The Mercurial is a wonderful, worldly (web) magazine rooted in Greater Danbury, Connecticut, and a gallery located at 11 Library Place in Danbury.
For more from Allie, visit her blog!