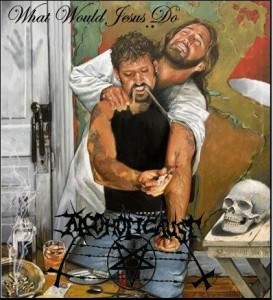 Alternative Control's second reader's choice column is a virtual sitdown with Bristol black metal band Alcoholicaust.  With their offensive nicknames and strangely catchy songs, Alcoholicaust is organizing shows in central Connecticut and making a name for themselves in the extreme metal community.  Enjoy!
AC – Who are your members, and what does everyone play?

Rabbi – We have Rabbi Huge Action on guitars, Grizzly Lynch playing the bass, and Mr. Matt RapeMachine Badrick has just joined us as our vocalist.
RM – Don't forget our drummer, Mr. X2P1158. Also I feel I should mention this is my first time joining a band EVER. There's a long and sordid tale to go with it involving my ex-girlfriend, the ex-vocalist, a plunger, and fifteen gerbils…but I won't bore you with that nonsense…
Grizzly – Derp.
AC – How long have you guys been a band?    
Rabbi – We've been together for a little over a year now.
RM – They have, I just joined this shitshow like a month ago
Grizzly – Merp.
AC – How did you come up with your name?
Rabbi – I don't think there was any other alternative, because it's what we do. We unleash a sonic holocaust through our alcoholicism-ness and drunken shenanigans.
AC – Where does your musical and non-musical inspiration come from?
Rabbi – Beer, brandy and whiskey…and beer and whiskey and brandy.
RM – I am inspired by every black and death metal vocalist I've ever heard… also beer and whiskey and beer and a desire not to suck at what I do…and beer.
Grizzly – Humanahumanahumana.
AC – Can you talk a little bit about your song-writing process and lyrical content? 
Rabbi -We pretty much get drunk and make loud noises until it sounds good while watching obscure horror/gore movies and German scheisse porn.
RM – I have yet to be a part of this highly intellectual process
Grizzly – Meow?
AC – What was your recording process like?
Rabbi – With our demo, we didn't really have any money to pay anyone to record it for us (since we spent all our money on booze). So we actually ended up recording it ourselves and plugging our instruments into a toaster and two microwaves and recorded it all through a coffee maker and a washing machine. In the end, we were pretty satisfied with the outcome and we plan to do the same thing with our upcoming full length album, entitled Legions of Decay, except we just invested in one of those new Kuerig coffee makers (the industrial kind), and we seem to be getting a much better sound out of it then the last no-name cheap one we had…some people might say we sold out, but if they tried the coffee that comes out of that thing after we recorded through it I bet they'd change their tune pretty quickly.
AC – How do you guys know Warstrike 666 and Infernal Solstice?  (Just curious — my husband used to be in a band w/ Angel, we all live down here in Stamford…)
Rabbi – I used to play in a band years ago with the drummer of Angel's band Baphomet's Horns…and our last singer used to play in another band with Angel…I'm not sure of the name…
AC – What are your thoughts on "the scene"?
RM – I think it's kinda bullshit. There's a ton of bands and the only people who come out to see them are other bands playing with them that leave when their set is done. Also, they are mostly shitty "core" bands these days. I have so many angry things to say but the Rabbi is threatening me with his huge action again, so I will get back in my cage now.
Rabbi – Sorry, I sent him back to his cage for a time out, what was your next question? …Did you see where I put my beer?
Grizzly – Mrrrrrrrrrgggghhhhhhh…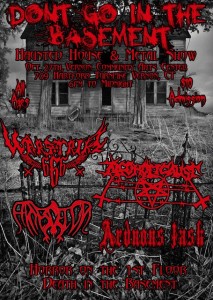 AC – Any shows coming up aside from 10/27 and 11/10?
Rabbi – Yeah, right now we have another show at Cherry Street on 12/28 we're putting together called "The Nightmare After Christmas" with Hraesvelgr, Arduous Task, Murrum, Perpetual Winter.
AC – What are some other local bands you'd recommend to our readers?
RM – I strongly recommend Kayotik, Shallow Ground, Apostasy, Leveler, Agrippa93, and Symphony of Malice.
Rabbi – What he said. I'd also recommend Arduous Task, Infernal Solstice, Warstrike 666, Murrum and Mortifica.
Grizzly – Rrrrrrooooaaaaarrrrgggghhhhh!
Check out Alcoholicaust on the web and at one of their upcoming shows!  
10/27: Alcoholicaust, Arduous Task, Warstrike 666, Lightsbane, Xenosis, 60 Grit, and more at the Vernon Community Arts Center
11/10: Alcoholicaust, Infernal Solstice, Dread the Woods, Arduous Task, Roarch, and Orcumentary at Cherry Street Station in Wallingford
12/28: Acoholicaust, Hraesvelgr, Arduous Task, Murrum, Perpetual Winter at Cherry Street Station in Wallingford