Disclaimer:  I am not, nor have I ever been a professional hair dresser. I have never been trained or taught and this article is based on nothing more than my own experience dyeing my own hair since I was 18 years old.  Please use all advice and tips carefully, and at your own risk, as nothing is guaranteed – not even professional hairstylists can do that.   With that in mind….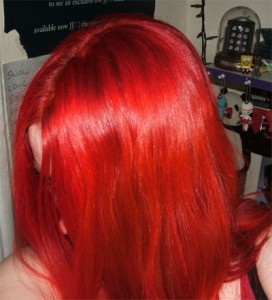 I have been dyeing my hair unnatural colors since I was 18 years old.  If the color exists, my hair has been that color. It has also been various combinations, such as purple and pink, or red and black, or turquoise and blue.  I've used every shade of red, orange, purple, and blue ever made, and when I got bored with those, I mixed them together to make something new.  As you can imagine, I worry about damaging my hair.  While the semi-permanent vegetable dyes (Special Effects, Manic Panic, Punky Colours, Directions, and Raw, for example) are not damaging, bleaching your hair (and roots) can be.  When/if you decide to do this, it is important to carefully consider the condition of your hair.  If you have a lot of breakage from past dyes, split ends, or your hair is particularly dry, don't bleach your hair.  Become good friends with deep conditioners (I, personally, love Aussie Three-Minute Miracle) and leave-in conditioners and smoothing treatments.  If you really aren't sure? Consult a professional.  In general, they want your money – but they also value their reputation and 99/100 times, they will be honest with you.
Okay. Now let's say you're confident that your hair can take it and you want to take the plunge and do an unnatural/bright color.  Start preparing your supplies – and your hair.  Before bleaching, don't wash your hair for 24-48 hours.  It may get a little greasy, but that's the idea.  The natural oils in your hair will protect your scalp and roots from the harshness of the bleach.
You're going to need to put aside a few hours to do your hair. I think of it as a project, since you have to do the bleach, rinse it, dry it a bit, put on the semi-permanent dye (ignoring that "15 minutes" thing on the bottle – try at least 3 hours, though if you can pull of 5 or 6, you'll be happier with the results), rinse, and dry your hair.  Like I said, it's a project.  But it's worth it.
Things you will need:
– Plastic/Latex gloves.  Get the powder-free ones.  Any drug store will have a box of them – usually by the medical supplies.  I go through at least 5 pairs of gloves each time I do my hair, so I keep a good amount on hand.
– Bleach.  I like to use Feria or Garnier  bleach blonding kits.  While you can buy a package of blonding powder and toner and mix your own, the pre-measured kits are much safer for those of us who aren't professionals.
– Bright dye in the color(s) of your choice.  There are myriad Web sites that sell dyes online. I recommend http://www.idyemyhair.com (I am in no way affiliated with them, they're just really good) and I use Special Effects dye because it seems to last longer than any of the other semi-permanent dyes.  There are a ton of sites to get hair dye from, even http://amazon.com sells it.  Sally Beauty Supply has some, as does Utopia in Norwalk.
– An old towel.  Semi-permanent dye is messy! Don't use your fine white towels unless you want them stained terribly.  Keep that towel around for the first few washes, as well.  While you're at it, wear an old shirt you don't care about and get a bandana that will be designated for hair dye days as well.  (Note: wash these with dark colored clothes or alone; they WILL stain light/white clothes.  My boyfriend now has a couple of pink socks, thanks to me throwing some of his laundry in with mine. D'oh.)
– Mr. Clean Magic Erasers.  I would almost bet these things were invented by someone who  dyes their hair unnatural colors.  They are truly a wonder to behold.
Now that you have your supplies, it's time to get started.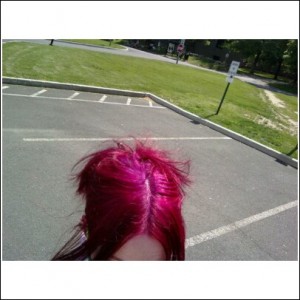 Never bleach wet/damp hair.  Make sure your hair is dry. (Remember, you let it get a little oily for extra protection, right?) When bleaching your hair, follow the directions.  And pay attention. Even if the package says you can leave it on for 20 minutes, if your hair has lightened more quickly and you're feeling good about how it looks after 10? Rinse it out.  The less time the bleach is on your hair, the less of a chance for damage, and the better for your hair.
Rinse your hair with warm water until the water runs clear.  Wear gloves for this and be careful of your eyes because you do not want bleach in your eyes.  Your hair will probably feel a little funky, as you just stripped the color out of it with a harsh chemical treatment.  Towel dry and gently (I cannot stress the world gently enough) comb through your hair for any knots or kinks.  Keep it wrapped in a towel for a while.  You don't want it to be 100%dry, but you also don't want it sopping wet.
Now the fun part: bright colored dye!
Odds are, you are going to just do one color. (More than one color can be done – there are tons of advanced tutorials online for multi-colored hair, check them out if that is what you want to do.)  If you can't find a color that seems perfect, mix them in a bowl.  I use three parts red to one part orange for my usual hair color, unless I can't find one or both of those dyes.  You'll find over time what you like.  This part is not a exact science.  The dye is not damaging to your hair; in fact, because it is vegetable based and coats your hair (as opposed to penetrating it the way bleach and permanent dyes do) it is actually good for your hair and you will find your hair feels thicker, more healthy, and shines more than it did before you used it.  So go for it.  Slop it on. Massage it in.  It will stain your scalp, so try to be careful.  People recommend putting a thin coating of petroleum jelly on your ears, neck, and hairline, but I have never been a fan. You can usually clean up after application with soap, water, and astringent, so long as it doesn't sit for long.  (Did I mention you should be wearing gloves while you do this? You should.)
Don't be afraid to be messy, though.  You want to coat your hair, and you don't want to miss anything, lest you end up with blonde/yellow streaks, or very faded shades of the color your hair is meant to be.  If you have a friend around, ask them to do a back of your head check – even after all these years, every once in a while, I miss a spot.  I like to pretend it gives me character, like Rogue from X-Men, but really, it's just sloppy hair dyeing.
Once your hair is adequately coated, pile it on the top of your head and put the bandana on.  This is so you can actually do things without staining everything you are near, as it is time to settle in for a few hours.  I really do like to do no less than three hours (remember, this dye is not damaging!), and aim for five, six, or more hours.  The bandana is your protective cloth barrier during this time!  Love it, and thank it !  Wipe excess dye off your face and ears and neck; clean anything that has splashed on your arms.  Use the Magic Erasers on the sink, floor, walls, or anywhere else the dye may have ended up. (No matter HOW careful you are, some will end up somewhere. It's just part of the process.)
After as many hours as you can stand have passed, it's rinsing time.  Put on some gloves, take your favorite conditioner – if you bleached first, use the conditioner that came with the bleach – and apply it straight to your head with the dye still on it.  Rub it in. The dye will be a little dry, almost stiff, and the conditioner will loosen it up.  Rinse.  I recommend rinsing in a kitchen sink because the stainless steel cleans up better than porcelain, though be prepared for some shower staining pretty much for the whole time your hair is dyed with semi-permanent dye.  (Magic Erasers and any sort of spray bleach like Tilex works wonders for this, though.)   Use cool water and rinse like it's your job to do it.  Once the water runs clear, you're good to go.
Dry your hair with a hair dryer, and you will be good to go.
Yes, it will run a bit for the first few washings, and you may not want to use your favorite light colored pillow case for the first few days.  You may wake up with some dye streaks on your face, shoulders, or hands – depending on how you sleep, and if you sleep with your head on someone else, they may as well.  It all comes with the territory.
When your hair starts to fade, you can just re-apply the semi-permanent dye over the faded hair. Do not bleach every single time – you will kill your hair.  I usually bleach after I have significant roots – about 2" or so – so about 6-8 weeks, depending on what is going on.  Because I stick with red/orange tones, if I am at all concerned about my hair's condition, I will take out the roots with a light orange dye as opposed to bleach to minimize the damage, but that won't work if you are maintaining blue, green, purple, or pink shades, unfortunately.
Yes, it can be a pain in some ways, but it's worth it.  At least it is to me.  I look funny with my natural colored hair. Well, at least as I remember it. It has been some time, after all, meaning it can't be that much of a pain.  Just be smart with the bleach and permanent dyes, pay attention to your hair's condition, and use a good color-protecting shampoo, conditioner, and leave-in conditioner. Good luck and happy dyeing!