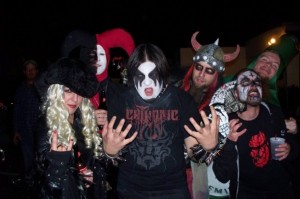 Halloween is by far the best holiday of the year.  No worrying about which divorced parent will be more offended if you don't go to their dinner, or wondering what the heck to buy your grandma who doesn't like movies, eat sweets, or leave the house.  All you have to do is get drunk and wear a silly outfit!
The hardest part of Halloween, though, is deciding which silly outfit to wear.  Alternative Control has some suggestions to help you make this life-altering decision for Halloween 2011:
Full-On Hooker: For one night of the year, girls can show a ton of skin without being judged.  Break out the fishnets and garter belts, because this is your only opportunity to parade around without wondering if everyone thinks your outfit is slutty.  (They do, but it's okay!)  You can be a naughty nurse, "hot for" teacher, or even a sexy nun, and it won't affect your rep for the other 364 days.  Or you can skip the pretense and just be a hooker – I've done that at least three nonconsecutive years.  (If you're a dead hooker, it's a little more "Halloween.")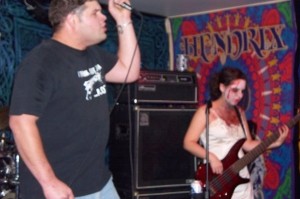 Dude in Drag: This is kind of like the Full-On Hooker option for guys because it's the only day they can live out drag fetishes without having their sexuality questioned.  On the other hand, Dude in Drag is not a repeat option for straight guys, unless you're trying to send your girlfriend a message.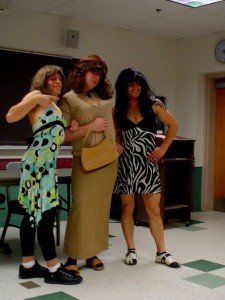 Group Costumes: Around Halloween, my brother and his meathead friends like to go to "da club" all dressed in themed costumes.  One year they were old-school wrestlers, another year they were a Viking horde… Apparently it gets a lot of chicks – but you if expect to match their "DTF" success rate, make sure you're down with GTL for several weeks in advance!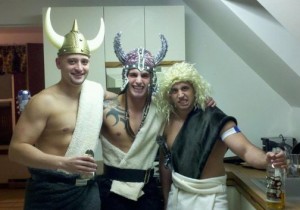 Friend Costumes:  Do you have a friend with a distinctive style?  Make it yours for the night.  If he or she just wears jeans and metal shirts every day, this can be pretty easy/boring; if your friend is a little more flamboyant, though, this could involve wigs, Goodwill shopping, or a closet raid.  Bonus points if you gender bend.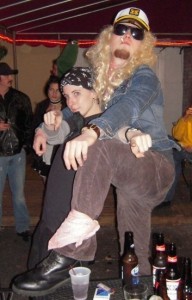 Low-Effort Costumes: Sometimes you just don't want a lot of Halloween hassle.  That's when you go for a low-effort costume, which should involve minimal trips to the store.  Get a pair of circular sunglasses, add an old Grateful Dead shirt, and you're a hippy!  If you have poufy hair, you can use those same sunglasses, add a metal shirt and a top hat, and you're Slash!  Metal shirt minus the hat/glasses, plus corpse paint?  You're a member of Immortal! Or forget all that and find a white sheet – you can be a Roman senator… or a ghost!  And Full-On Hooker might be a low effort costume, too, depending on what lurks in the back of your underwear drawer.  The possibilities are… well, finite but cheap.
Stay tuned for details about an Alternative Control costume contest… And enjoy your Halloween!