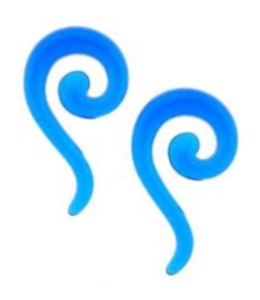 It's getting colder out now! Yeah, I know: "Thank you, Captain Obvious." The night has slipped its way across the border of summer's days, creeping in with lower temperatures over the evening hours. Leaves change into colorful attire, as if they are dressing up for a special occasion, readying themselves for their fall journeys. Time to get out the winter clothing, put the suede shoes away and hunt down coats that will fit our swollen bodies stuffed with holiday feasts. This is the time for scarves and long-sleeved shirts, snow boots, and head-gear to cover easily frost-bitten ears; these are all the familiar things to anyone used to New England life.
One odd winter change that not many think about is putting away the metal gauges and using acrylic, silicone, or maybe even glass ones. This is not something most people think of, until they have metal gauges in their ears in the winter time. I don't have a lot of problems with my gauges (two pairs 6g, on pair 4g), but the chilling bite of winter's sting is not only annoying — it can be painful. Once indoors my ears burn up and throb for a while thereafter. My best suggestion is to get a bunch of solid colored plugs or pinchers, or perhaps some silicone or acrylic tunnels. If you look hard enough you can find a great variety of fun, non-metal gauges.
Hot Topic always has decent sales on their body jewelry, but they carry mostly metal. I recently found a website with a great variety of materials and styles to choose from: www.eargauges.net. Or you could just buy some hats and earmuffs — but to me, gauges are more fun!
Originally published by Alternative Control in December 2010.