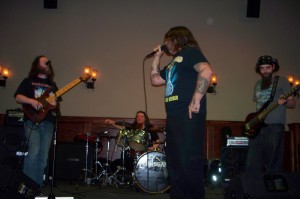 Arcane Malevolence's first show was December 14, 2007 at Monkey Bar with Age Old Nemesis, Lesser Being, and Year of Confession.
Monkey Bar shut its doors years ago and reopened as some dance club.  Lesser Being and Age are now defunct; I don't know who Year of Confession is, but they're probably defunct too.
And now Arcane Malevolence has joined them in the graveyard.
Despite several obvious conflicts of interest, I think Arcane's last show deserves a spot in our music column.  For almost five years, Arcane has been known in the CT metal scene for seven-minute songs, the stage antics of their singer, and for never dropping off of a show.  Some people didn't embrace their unusual style, but nobody could deny each member's musicianship and the creative effort they collectively put into their endeavors.
Formed in late 2007 by members of Crawling Chaos, Verata Nicto, Age Old Nemesis, and Baphomet's Horns, Arcane combined musical styles to create a sound that was both dark and melodic.  With Angel Roig on vocals, the band played shows in Connecticut and New York, making a name for themselves in "the scene."  Then, according to their website bio, Angel "got back together with his ex-girlfriend and decided to have a bunch of kids."  Bassist Johnny Pluckman, guitarist Mike Devaney, and drummer Chris Anderson were "high and dry for a mouthpiece."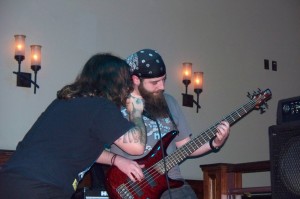 Enter Christopher Baldwin.
With Baldwin on vocals, the band took a left turn into a world of emperor's jesters, Danny Filth pantyhose, and on-stage pelvic thrusts.   He hurled insults at every audience, calling them "cum-eaters" and proclaiming that they should die in car crashes.  Arcane released a full length album, Wicked Turn of the Vine, in 2010. The arduous DIY recording process was worth it; they were voted Best Metal Band by Fairfield County Weekly readers in 2010 and again in 2011, in spite of Baldwin's epithets.
But they eventually grew tired of their metal grotesquerie, and broke up.
The boys played their final show to a packed house last night at Lanza's in Ansonia.  An Italian restaurant that seemed more geared towards Frank Sinatra fans, regular patrons ran for the door as the black-t-shirt crowd filled the room.  Arcane was up first, and Baldwin wasn't any nicer to the audience than usual.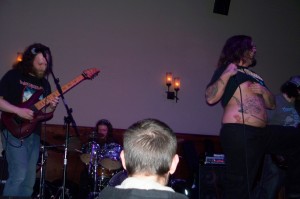 They opened with "Of Biblical Proportions," a song from the early days with Angel.  Next came "Haxan," a jaunty little number about witch trials — which Pluckman made a great music video for, by the way.  "Couth Sabre," an instrumental, was third; it flowed straight into "Desert Fury," a more recent composition.  The boys closed with "Betrayer of Hope," a crowd favorite that Devaney wrote years ago with Crawling Chaos.  The pit erupted, horns were thrown…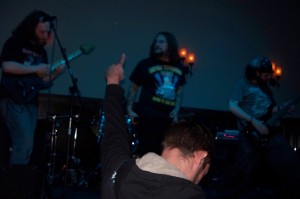 And thirty minutes after their final set began, it was over.  Continuum took the stage and the show went on; Brenda St. Amant growled and sang over an onslaught of double-bass and dual guitar anger.  Lightsbane was up next, with Devaney's old Crawling Chaos bandmate Lee Swanson on drums.  Cue "Circle of Life" music here… And props to Lee and Lightsbane for organizing this show — you guys got a fucking crowd out there!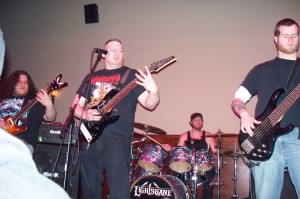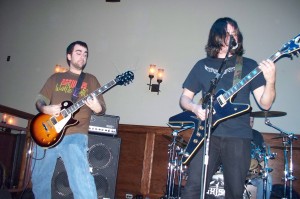 No Remission came on around midnight. The New York thrash band has a large following in Connecticut and — in another "Circle of Life" moment — has played many of their CT shows w/ Arcane Malevolence. Known for guitar riffs that combine beauty and brutality, they played material off their 2011 album Through Blackened Skies, as well as a newer song called "Skin Junkie."  (Wonder what that one's about!)  They even included a tribute to Arcane in their set…
Progressive death metal band Xenosis closed the night with their new vocalist Rhys Bufford, while former singer Erik Tetreault banged his head in the audience.  Overall, it was a good night for "the scene" — none of the bands sucked, a lot of people came out, and Lanza's made so much money at the bar that they might even let Lee book another show there.
But what's next for the boys of Arcane Malevolence?  Baldwin wants to focus more on writing, as he explained in his recent column "The Writer in Musician's Skin."  Devaney is putting together a melodic metal project and playing in CTCR, a classic rock cover band.  (Stands for Connecticut Classic Rock… NYDM, NYHC, CTCR — get it??)  And Pluckman and Anderson are far from finished with metal.  Even if Arcane is dead and buried, none of these guys are ready to trade creativity for the Sono bar scene just yet.  As Baldwin wrote last week, "It's just that it's time to let somebody else handle the dick jokes and the bad improvisation. A big thank you to everyone who supported the band, and I'll see y'all around! BLLAAARRGGG!!"
All photos by Jillian Simpson.
Did you miss Arcane's last show?  Luckily the Headbanging Hostess taped it for you…  Keep it fucking metal!