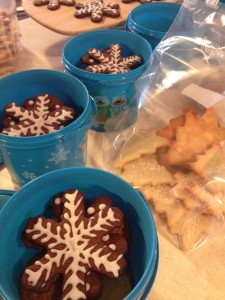 I've been seeing lots of posts on Facebook regarding Fox News and their coverage of "The War on Christmas." To be honest, I've been skipping all those super-secret atheist meetings where we all get together and plot to overthrow the Christian majority. I've got my own issues with Christmas.
#1 – I hate the traffic caused by idiot people having to buy stupid shit for other idiot people.
#2 – I hate the lines and crowds in stores caused by idiot people having to buy stupid shit for other idiot people.
#3 – I hate–
That's enough hate for one article.
Look, if you're wondering why an atheist is doing anything for Christmas you can take me out to a nice meal at Capitol Grille and I'll explain it all to you as best I can. Until then I'll just move onto the recipe portion of this article.
I ended up making three kinds of cookies with two kinds of dough. Chocolate peppermint cookie dough was cut into snowflake shapes, regular cookie dough was cut into Christmas Trees and all the leftover scraps were rolled together to make a nice two-tone sliced cookie. Then I made molasses mini-muffins and Craisin cornbread mini-muffins to really throw them for a loop – muffins are Christmas cookies? Those crazy atheists!
The cookie making took me two days. The first day I made the chocolate ones and the second day I made everything else (the regular ones, the two-tone ones, the two kinds of muffins) then I decorated the chocolate ones I'd made the day before, packed them all up and delivered them.
I felt like a zombie when I was done. Perhaps I could have planned it better.
My first stop was the convenience store where, to be honest, they've grown used to baked goods being brought in by me or my husband. My second stop was to Russ at Seaside Tavern, my husband's bartender. For a few hours of "husband out of hair" every Sunday, Russ earned every one of those cookies. I should probably bring him more. He was sweetly surprised and I even got a kiss out of the deal. The mechanics, thank goodness, didn't kiss me but they were also pleasantly surprised. "These are from the Blazer!" I said. "Merry Christmas!" The woman at the bank was an employee from another store but I gave her the tin and she exclaimed, "Thank you! You guys have it good here!" The reactions were priceless. They made the effort well worth it.
So that's my bit of Christmas cheer. We still have a few more to deliver – the print shop, the pawn shop. Maybe there's a reality show in this?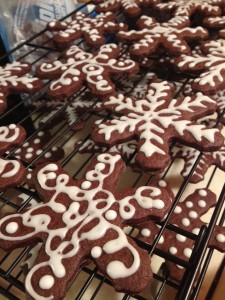 Chocolate Peppermint Sugar Cookies
In a bowl mix together 2 ¾ cups all purpose flour, ¾ cup Dutch cocoa. ½ teaspoon of salt and 1 teaspoon of baking powder.
Using a food processor blend together 1 ¾ cups of white sugar with 1-2 tablespoons of peppermint leaves. In a separate bowl blend 1 cup of room temperature butter together with the peppermint sugar. Add 2 eggs one at a time making sure each egg is fully incorporated into the batter before adding the next. Add 2 teaspoons of vanilla and mix in.
Now you add the dry ingredients to the wet ones and let the cookie dough come together. It will look like pebbles. Turn off the mixer and get your hands in there to make two big balls of dough. Wrap them in plastic wrap and put them in the fridge.
Sugar Cookies
In a bowl mix together 2 ½ cups all purpose flour, 1 teaspoon of baking powder, ½ teaspoon of salt and ½ teaspoon of cardamom.
In a separate bowl blend together ¾ cup of butter and 1 cup of sugar. Add 2 eggs one at a time, same as the first recipe. Add 1 teaspoon of vanilla, mix it in and then add the dry ingredients. Make the dough the same way as before and wrap the two balls in plastic and put them in the fridge.
Let the dough chill at least two hours, overnight is fine. And then all you do is roll out the dough, painstakingly, on a floured surface, with a little more flour on the dough. (There's a lady on YouTube who does it with parchment, you may want to try that.) And then make sure it's all the same thickness by closing your eyes and running your hands over the dough. Then, using a cookie cutter of your choice, cut out the cookies, and then painstakingly and hair-rip-outingly get them off the counter with an icing spatula.  (YouTube that woman!)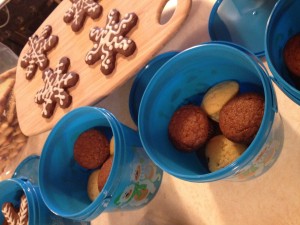 Transfer to a greased cookie sheet and bake at 350 for 8-12 minutes depending on the size and thickness of the cookie.
Go back and forth between your two balls until all you're left with is two tiny balls. Do it twice. Now you have four tiny balls. Look, whatever you have left just fold it all together over and over, roll it into a sausage, wrap in plastic wrap and chill. When chilled slice and put on a cookie sheet and bake at 350 for 8-12 minutes. Now, if you have understood me at all you'll have three kinds of cookies.
You can make a simple icing by mixing one egg white with 1 teaspoon of lemon juice and then adding 1 ½ cups of powdered sugar. Use a piping bag to decorate them as you choose. I decorated the sugar cookies with sprinkles (before I baked them) and iced the chocolate ones.
Holy crap, this is a long article! Just e-mail me if you want the muffin recipes – [email protected].
Merry Christmas! \m/