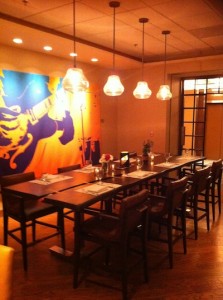 Today I'm here to tell you about a place you probably never knew existed. A restaurant that specializes in seasonal, local, farm to table American cuisine that is high end in quality and mid-range in price, looks beautiful inside, and would be a great place to take someone you like.
Parallel Post is the brand new restaurant located inside the Trumbull Marriott Hotel. The hotel is straddling the Stratford/Trumbull line, so unless you have a deep desire to go to the Hawley Lane Mall (which is next to the hotel) or live in the area you would never think to travel to a hotel for good cuisine. The Marriott, however, decided to change that thought by recruiting Chef Dean James Max to make Parallel Post an oasis in a sea of suburbs, in that the overall lavish design, cuisine, and bar makes it a place worth traveling for.
Formerly J Porters, the hotel re-modeled the place two months ago and opened up the room to add a more modern touch. It appears that the hotel is trying to grab outsiders and non-guests so Parallel Post isn't something that attracts only people staying in the hotel. As per their website, the restaurant has "a daily changing menu that represents the best of what our local markets have to offer." The local aspect of the menu adds to the freshness and overall clean feeling of the food, especially the seafood, which tastes as if it was driven in that morning.
There's a lot to choose from, so here's a sampling of some main categories. For seafood, the Norman Bloom Clam BLT is a novel re-thinking of seafood presentation, with clams in the shell simmering in a tomato broth with smoked bacon, a thick piece of toasted bread, and grilled romaine. For meat/poultry the best gourmet hamburger in the area (something they carried over from the old name) has grassed local beef, Vermont cheddar, and smoked bacon on a brioche bun. There is also a healthy amount of vegetable options, from well prepared sides to salads like the field greens with lime vinaigrette and the light and delicious Coach Farm Goat Cheese Salad, with roasted heirloom beets and a basil vinaigrette.
Overall, Parallel Post has a very passionate yet careful approach to their menu in both taste and quality of ingredients. Almost all of the items on the menu are balanced as far as flavor and more importantly, fresh. The meat doesn't taste third rate, the seafood is fresh and with the seasonal/local angle, and the menu changes to reflect the ingredients in season. Parallel Post is a great place to take someone out to, to have a quick drink (their specialty cocktails are both creative and strong) and the fact that it's within a nice hotel makes it just different enough to give you a nice experience.
Parallel Post is open seven days a week. For more information, go to http://parallelpostrestaurant.com.
For more from JW, visit http://9479.net.