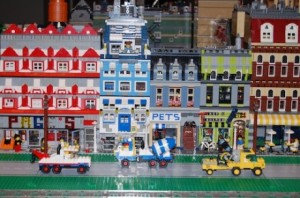 By Janet Serra
Originally published in The Mercurial.
A wondrous world made of over 500,000 tiny Lego blocks promises one of the season's most delightful holiday treats when 'All Aboard with Bill Probert and Friends' fills the Leonhardt Gallery at the Stamford Museum & Nature Center in Connecticut, now through January 27, 2013. Whizzing trains, soccer fields, airports, elevated highways and spinning wind turbines, country farms, and city gardens will be among the amazing parts of this third edition of the big and busy 365-square-foot trainscape.
Vehicles from helicopters to cement mixers, people from pedestrians to soccer players, trees and flowers, store and street signs will all be part of the scene, plus whimsical surprises for visitors with a keen eye. In past years, unexpected details included pigs escaping through an open gate at the farm, or a visit from the elephant and alien, favorite characters from the movie Star Wars. Tiny gravestones in the cemetery were marked with Lego-themed, pun-filled epithets.
A special feature this year will be the addition of creations from winners of the Stamford Museum & Nature Center's All Aboard competition.  Lego enthusiasts from five-years-old and up will be submitting entries for inclusion in the display.
The master builder of this small world, Bill Propert, is a Fairfield resident who says that he became enamored of the possibilities of tiny interlocking Lego blocks when he became a father a couple of decades ago. But while his son has grown up and moved on to college, Bill continues to hone his Lego skills as a hobby. He has found a lot of adult company, joining groups of fellow Lego aficionados and building larger scale displays. Probert has been aided in his trainscape creations for the Stamford Museum by members of I LUG ( Lego Users Group) NY.
Probert's much-admired creations can often be seen in area businesses and museums and as part of many charity events. His trainscapes have brought record crowds to the Stamford Museum & Nature Center.
Visitors to this multi-faceted museum in the woods of North Stamford in Western Connecticut will find much more to do and see. The museum building is the lavish Tudor-style Bendel Mansion, former home of the New York retailer Henri Bendel. The 118-acre museum property is also home year-round to the Heckscher Farm, a 16-acre working New England farm with heirloom breeds of animals; the Stamford Observatory; Overbrook Nature Center, an otter enclosure, and more than 80 acres of hiking trails.
Another unique display for the holidays at the Museum is 'Visions of Gingerbread IV,  The Sweetest Architects', featuring creative confections of completely edible materials from some the area's finest chefs and caterers. For more information and hours, see stamfordmuseum.org.
The Stamford Museum & Nature Center is located at 39 Scofieldtown Road in Stamford.  For more information, visit the Museum online at stamfordmuseum.org or call (203)322-1646.