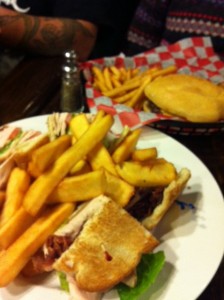 Fiddler's Green is a bar that wears many hats.  A landmark on the edge of Stamford's Cove and Shippan neighborhoods, it's a great spot for a morning beer, an afternoon darts game, or never-ending rounds of cards — and recently, Tommy Kipphut III, who runs the bar with his father Tom Kipphut Jr., has been bringing local metal bands to its stage.  No matter what you're doing at Fiddler's, though, there's one thing that all the patrons agree on: the food is delicious.
The Pink Missile/Alternative Control/Stamford-fake-adult crew stopped by Fiddler's for a quick dinner this weekend, and we weren't disappointed.  Baldwin and I ordered off the specials menu: a turkey club for me and a cheeseburger with gorgonzola, bacon, and barbecue sauce for him.  Carrie and Jim got regular cheeseburgers while Danny enjoyed a meal of  the finest Michelob Ultras.  All our meals came with a choice of regular fries, steak fries, or onion rings. (Except the Michelobs.)  If your dish doesn't already include a side of curry sauce, order one to share — it's great for dipping.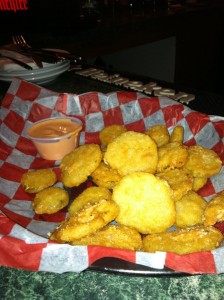 Whenever Pink Missile plays at Fiddler's, I make sure I come hungry.  One of my usual orders is cheese fries, which are covered with so much melted cheddar that they really could be three full meals.  Another favorite is chicken tenders, and you can't go wrong with anything off the daily specials menu — I don't even like pickles, but I tried their fried pickles once and became a believer. They also have Irish dishes like shepard's pie, fish and chips, and bangers and mash.
Things can get pricey down in Stamford, but Fiddler's keeps it pretty reasonable; our bill for four meals, six or seven beers, and two giant Captain-and-cokes came to about $90, and our bartender Dave gave us a couple drink chips for next time.
The quality and service at Fiddler's make it one of my favorite bar food spots in the area.  I'm certainly biased in this respect, but I think it's becoming a great spot for local metal as well.  They've been hosting original rock and metal bands for awhile now, and "Young" Tommy is bringing Suffocation, an internationally known death metal band, to the bar on 12/8.  That show will include a meet-and-greet and autographed posters for all audience members — a little more personal than seeing Suffocation at the Palladium, right?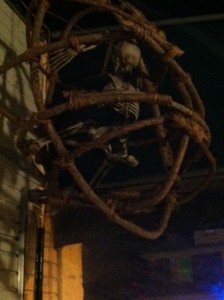 The moral of the story here is that when you come down to Fiddler's for a metal show — which you will be doing! — make sure you have dinner too.  See you there!
Fiddler's Green is located at 280 Shippan Ave. in Stamford, CT.  (203)356-0906   Open 9 a.m. to 2 a.m. daily.
Upcoming Shows