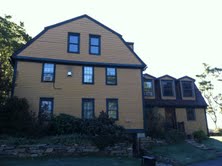 By Chris Baldwin and Carrie Johnson
Despite the autumn being almost an absolute wash-out, two of your favorite Alternative Control columnists decided to play our chances and head up the coast for a weekend vacation. Actually, let me rephrase that. One of your favorite Alternative Control writers decided to buy her boyfriend who also happens to be one of your favorite Alternative Control writers, a birthday present of a hot air balloon ride and weekend vacation up the coast! Hooray for me! Anyway, we decided to write about our weekend excursion and clue you in on all the action-adventure we experienced. Daring encounters with stingy slot-machines, annoying teenagers of the corn, and possible serial car-battery killers abound in Chris and Carrie's venture into Operation: Balloon Ride Denied!
We took off around 1pm on that Friday, hitting the road during sunny, crisp and clear autumn weather; a rarity this season. We hit almost no traffic, and made it to our destination thanks to wonderfully easy "go straight on" directions from the GPS. We pulled up into the parking area of Captain Grant's Bed and Breakfast, greeted by the very friendly and soft-spoken husband of the B&B team, Ted. He gave us a small tour of the property, giving us the intel on the location of the gaming room, and where we would be meeting for breakfast in the morning. We also got to meet the couple's adorable and friendly cat Sophie.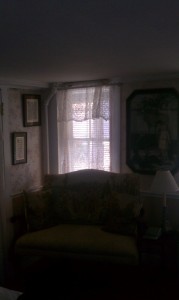 Ted then led us to the house which we would be staying at, handing over responsibility of leading us to our rooms to his wife Carol, the super-heroine of the B&B team. She handed us our keys and took our credit card information with superhuman speed, and left us alone to our claustrophobic room filled with soul-eating porcelain dolls and mischievous children paintings. The room we stayed in is advertised as being the most Victorian of the available rooms, and in that regard it did not disappoint! And there were even little chocolates and toiletries in the room!
All in all, Captain Grant's 1754 is quite a quaint and romantic choice of lodging. Much like its title indicates, it was built in 1754 and used as a garrison during the Revolutionary War and housing for runaway slaves during the Civil War. Also, rumor has it that it might be haunted, although sadly we didn't witness any of the porcelain dolls flying off the shelf baring their teeth. The property consists of two separate houses, each one decorated extravagantly in a country style. The history of the place makes itself apparent in the low-lying ceilings, old-style creaky wood floors and frighteningly small shower. Seriously, we almost had panic attacks while we were shampooing our hair. A bottle of sherry was placed in our room as a complimentary extra, and we nauseatingly drank a bit after our excessive alcoholic venture to Foxwoods on Saturday night. It tasted kind of maple-y, and also like a hangover waiting to happen.
After unpacking and hanging out for a bit, we decided to head to Mohegan Sun for the evening. Captain Grant's happens to be placed conveniently close to both major Connecticut casinos, with Mohegan Sun seriously being just a six minute drive or so. We headed in and spent most of our time walking around and taking in the awesome architecture and ambiance of the place. We dined at Jimmy Buffet's Margaritaville and stupidly ordered a volcano of nachos as an appetizer. We ate more of it than we could handle, partly because we were that hungry, and partly because we were trying to mask the pain of not being asked if we wanted a balloon hat from those asshole stilt-walkers that were making their rounds. Seriously, they asked every other table and not us. We must have been doing the perfect impression of a couple that just DOESN'T want balloons on their heads.
After eating a mediocre meal, we did some gambling at the slot machines. All in all, it was a pretty uneventful affair. We lost some money, we won some money, I inhaled a heaping amount of second-hand smoke and the whole thing resulted in us breaking even. Eh, it was fun to push the buttons and bathe in the lights for a bit though. We then walked through the mall area. We stopped in the candy store and Carrie got carded for buying some Goo-Goo Clusters because, you know, they're laced with heroin apparently. Or maybe they're just too delicious for children to handle. We searched for a single bar to chill and have some drinks at that didn't have a huge poker game screen set up at every seat, but apparently that was impossible to find. Finally, we had had enough of walking and stopped at the Krispy Kreme to put back all the calories that we lost walking around in search of a decent rum and coke. With raspberry jelly all over my beard, we headed back to the car and back to the B&B. We took some complimentary alcoholic beverages from the fridge, watched some Pawn Stars and passed out.
The next morning we rose for breakfast. We headed over to the main house and seated ourselves in the den for some tea and coffee. This was the first time we met the other guests of the house, who were at least 10 to 15 years older than us. We sat down to the table and had one of the best breakfasts of our lives. Everything was absolutely homemade, even the jellies and sauces. We ate an assortment of eggs, roasted potatoes, fruit salad, freshly squeezed orange juice, warm biscuits, and some mystery sausage. Our breakfast companions consisted of two other couples. One was traveling through on a foliage tour, and the other was in search of ghosts and looking forward to visiting the nearby creepy old graveyards. We were a solid decade younger than all of them, but we made friendly conversation and had an amazing breakfast.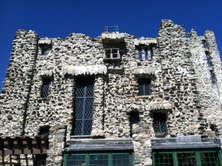 Once we had fully gorged ourselves, we decided to head out to nearby Gillette Castle State Park for some hiking and a tour of the castle. But, alas, the spirits apparently didn't want us to leave the property, and the car battery was dead. After waiting about an hour for AAA to show up, Andy helpfully diagnosed the problem and replaced the battery before graciously accepting our offer of a Krisy Kreme donut as a reward for rescuing us. Then, we were on our way!  Gillette's Castle was built in 1914 for William Gillette, the stage actor who famously portrayed Sherlock Holmes. Supposedly there are some cool features to the castle like surveillance mirrors and other oddities. Unfortunately the castle was under renovations so our 'tour' consisted entirely of us climbing our way around the cool-looking stone building and taking lots of photos of the breathtaking views. We hiked our way around many of the trails, which was a fun way to kill a couple hours. We'd love to go back when the castle is actually open and do a bit more exploring.
We took a trek to find a decent place to have lunch, finally settling on a 99 restaurant in a nearby town and had some yummy and very fattening salads. Sensing inevitable food coma coming on, we then headed back to the B&B for a shower, change of clothes and a slight nap. The evening was soon upon us, and we were off again on another adventure.
This time, we headed up to Preston Farms to test our navigation skills through their corn maze. That Saturday night was one of only two nights that they were open, and the amount of people that were there certainly proved that to be true. I'm pretty sure half the town showed up, and at least 75 percent of the children in Middlesex County. The maze this year was shaped like the Titanic, and the object of the maze was to find as many of the sixteen markers as we could while trying to find our way out of the maze.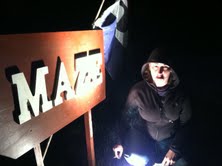 I'm embarrassed to say that Carrie and I were terrible at doing this. The few markers we did find were only discovered because of a few screaming children who happened to have way better navigational skills than a couple of fully sober and intellectual adults. Our flashlight was tiny, our night vision is terrible, and the fact that we were purposely trying to avoid annoying teenagers, misbehaving children and families of twenty-four equipped with halogen lanterns didn't help our quest. Also: it was freezing out. Children were bundled up like they were in the midst of a blizzard, but we were sadly under-dressed for these frigid temperatures, and were forced to give up with an embarrassingly few number of stamps on our corn maze passports.
Meanwhile, earlier in the evening, we had called Gerard, the hot air balloon guy who gave us the sad news that the weather in the morning was supposed to be shitty, so our ride was called off.  We decided to get drunk instead, and headed over to Foxwoods.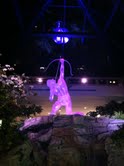 As I said, Captain Grant's is the ideal inn for any avid gambler. It was just over a ten minute ride to Foxwoods. We headed inside and immediately sought for warm and delicious Chinese food, which we got at the Red Dragon. We each ordered a giant rum cocktail that tasted terrible, but gave us our first real buzz of the weekend. With slightly drunken fortitude we headed into the casino to play the slots, only to lose about 40 dollars between the both of us. Giving up on the dream of being able to buy Gillette's Castle with cash, we abandoned the slots and set out again on our journey to find a bar. After a lot of searching, we finally came upon a place called Halo, and spent the remainder of that evening getting completely wasted on some very skillfully mixed rum and cokes. Carrie made a douchebag at another table feel incredibly stupid for wearing his awful sweater (though, in fairness, the reason I made fun of him initially was because he was loudly proclaiming that you should always hit on the 'grenade' in any group of women because she's more likely to put out when you give her even the slightest bit of attention…), we watched the Yankees lose their first game in their playoff series against the Tigers and watched some amazingly awful mating dance from a drunk guy in a tuxedo. All in all, it was a very successful evening.
The following morning we accidentally overslept, thanks to our numerous adult beverages the night before, and missed out on breakfast. We shamefully snuck out before anyone noticed and headed back home. And thanks to mother nature denying us the pleasure of a hot air balloon ride on a beautiful, crisp autumn day, we'll have to do it all again once we reschedule the one thing that was supposed to be the main purpose of this entire weekend away. Please stay tuned for Part 2 of Chris and Carrie's Weekend Vacation coming to you some time next spring, as long as we can avoid the 467 less-than-ideal weather conditions that would make our second weekend another episode of…BALLOON RIDE DENIED!!