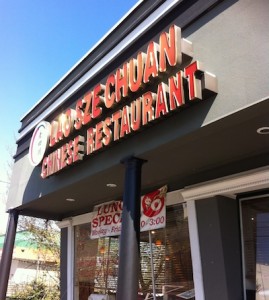 Milford, Connecticut is overflowing with Asian cuisine. For such a tiny town, there's some version of a Chinese/Japanese/Thai place every half mile, to the point where it's starting to get weird. For this piece I'm just centering on just one immediate area: the JW-carved out range between the CT Post Mall and Milford Marketplace (Whole Foods Plaza to make it clearer). Two miles, six places, all within walking distance of each other — one has to be number one and one has to be number six. In descending order…
6.  Lao Sze Chuan (1585 Boston Post Road, Milford, CT)
Located in what used to be the "BO Concept Plaza," Lao Sze Chuan is beloved by well, everyone I spoke to, a fair amount of people on Yelp, Zagat, New York Magazine and probably much much more. The menu is diverse and gigantic (which makes the price range limitless), with various dishes all made however you want it, with options to throw anything from seafood, chicken, pork, or tofu in everything.
Praise be damned though, as both visits to Lao Sze Chuan turned out to be seriously mediocre, especially in contrast to the rest of the group. It's great to be able to choose from an insane variety of appetizers, soups, entrees and noodle dishes, but when the chicken tastes gamey, the broth or sauce on the noodles or protein taste like fast food, and the room is tiny and eye-melting bright, it doesn't come off well as both a food experience or a going out experience. This being said, the place was packed tight on both nights I went and no one looked unhappy with their experience. There are better places though, which we will find out about right now.
5. Sakura Garden (1201 Boston Post Road – CT Post Mall, Milford, CT)
Located on the lower level of the CT Post Mall (next to Target), Sakura Garden has both a Japanese buffet and a Japanese fusion restaurant style menu. In starting out on this review I figured Sakura Garden would be dead last on the rankings, just due to the fact that it was more "nice looking room" and comfort than actual good Japanese food.
That being said, the severe disappointment of Lao Sze Chuan bumps Sakura Garden up a spot, if for no other reason than pure opulence. Buffet style usually means lower quality (i.e. one bag of chicken + 5 different sauces = 5 entrees that taste slightly different) and Sakura Garden attempts to shoot even higher by featuring sushi, the one item that shouldn't come out of a bag . Go for the buffet (a slightly over-priced $10.99 for lunch and $16.99 for dinner) and you will get a diverse, pretty healthy selection of seafood, vegetables and noodles along with a very good selection of sushi. Sakura Garden has changed a bit since it first opened, and it's big positive now is that the food looks well-made and healthy (i.e., the opposite of the "5 bags of chicken" line from earlier), which goes a long way to matching the great looking room. There's also a full bar and plenty of TV's, which makes Sakura Garden a nice, different type of place to catch sports as well.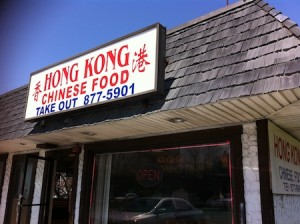 4. Hong Kong Chinese Restaurant (16 Red Bush Lane, Milford, CT)
So hidden you may not even know it's there, Hong Kong is located behind Dibella's Subs on the Post Road, at the corner of a small, aged strip mall. While Hong Kong is just a takeout place with no seating, the fact that it's this high on the list says something about the food. Classic Chinese cuisine at its best, Hong Kong's strengths lie in the areas of freshness, qualify of chefs and price. The menu is the standard fare you usually see for takeout places (various cultural dishes containing some combo of noodles, rice, vegetables, seafood, chicken or beef) but what makes Hong Kong stand out is that while it looks like one of those greasy, sketchy takeout places the food is actually reasonably healthy (there is an entire "diet section" that contains several steamed vegetable and noodle dishes), cooked ready to order and most importantly because if it's size, Hong Kong actually rotates ingredients quickly, so there's no risk of getting stale and tired-looking meat, chicken or seafood.
The other outstanding aspect of the place is the value. for $18.65 you can get multiple entrees, appetizers, soup and noodle dishes (enough to feed 4+) and they also have the insane deal of 21 fried shrimp (lightly fried in panko breadcrumbs) and a 1/2 order of fries for the low low (low) price of $5.50. Hong Kong also has great egg rolls, a flavorful vegetable lo-mein and a pretty weighty selection of Cantonese Hunan and Szechuan dishes. The outside looks old and tired, but the inside has food that is inspired, no-nonsense and tasty.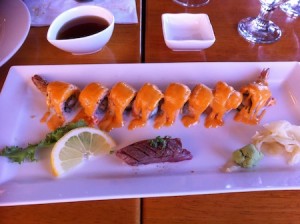 3. Momo's (17 Turnpike Square, off of Boston Post Road, Milford, CT)
In my view, Momo's is the "underground" spot in the area. Previously another Japanese place by the name of "East," Momo's would get lost amongst the hundreds of stores on the Post Road if it didn't have that bright, orange canopy hanging over the front, strewn in multi-colored Christmas lights. Momo's (Japanese for "peach") is Japanese fusion and has by far, hands down, undisputed the best sushi in the area. The menu (a pricey, but great variety of sushi/sashimi, authentic Japanese cuisine and really creative modifications on the classics) is small but lush with quality and if you are looking to have a nice, private night with someone, Momo's is a great looking, out of the way place that you can use to look cultural and "foody."
Let's get back to the main part though – the sushi is top of the class at Momo's. Being that it's the selling point means that you can walk in and not only get the usual California Rolls at a higher quality than most, you can also get a lot of interesting "signature rolls" from the "Caribbean" (spicy tuna avocado topped with mango and black caviar) to the "Tiger" (shrimp tempura topped with salmon and spicy BBQ sauce). What also puts Momo's over the top in sushi is the idea that much like a good fishmonger or butcher, Momo's will consistently have choice, fresh seafood, or kobe beef that can be added into the roll for an added fee. Throw in a nice, classy looking small room and Momo's is a great, great out of the way place and the best place for sushi connoisseurs.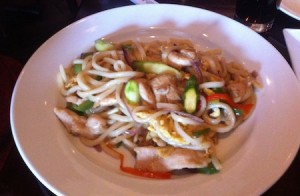 2. Tengda (1676 Boston Post Road, Milford, CT)
The once leader amongst Asian cuisine in the area feels like it's slipping a bit in response to both like competition and unlike competition. Located in the shopping park that holds Whole Foods and Plan B, Tengda had a long run being the only "high end" Asian place, with its stellar looking room, great Chinese/Japanese/Thai cuisine, the performance of hibachi and an overall modern look of class.
Tengda is starting to face competition though and while the food is still well made (the pineapple fried rice and basic noodle dishes such as lo-mein and pad thai are unparalleled amongst the group) and well cared for, Tengda is becoming the all dreaded "hit and miss" type place, where some visits you are getting that great meal you remembered and other visits something's a bit off. There's still plenty of reasons to go – the bento box lunch is not only great value, but stands out in both presentation and taste, the bar still looks cool to hang out in, but with Plan B probably siphoning parts of the potential business of folks being in the plaza and also hungry and places like Ten Asian arriving on the scene, Tengda has to fight not only against the Asian places in the area, but also the burger joints in their own space.

1. Ten Asian Bistro (1201 Boston Post Road – CT Post Mall, Milford, CT)
This is the newest place out of the pack, it's also the best Asian place in the group.  Located at the front entrance of the CT Post Mall (but don't hold the locale against the quality), Ten creates picturesque sushi plates, challenging "cooked" entrees and has a great looking bar area with skilled staff.
The food is a mix of Chinese/Japanese/Thai, with all the usual entrees you would expect from the cultural cuisine. In my few trips there I note that beyond Momo's, Ten is the clear second place in the "best sushi in the area" contest, with fresh, well put together sushi and sashimi in a variety of combinations (try the Dynamite Roll, with eel kani asparagus cream cheese, spicy tuna and crunch done tempura style). The cooked entree's all hit the mark, with the seafood, chicken, pork and steak fresh and not gamey and the layout of the menu being very clean, simple and tasty. Ten's got a great looking room as well, with wide open windows in the bar area and a nice dimmed down, cultural feel for the dining and sushi bar areas. It's a great place to grab a to-go lunch as much as it's a place to take friends and family out for dinner.