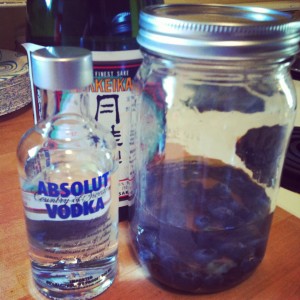 Serves 2.
Being a hipster isn't all fun and games.  When my first batch of infused sake came out tasting like a pine tree, I knew I had to go back to the drawing board and come up with a better recipe to share with all ten people who read this blog.
For this round, I infused Gekkeikan with blueberries and added a secret ingredient: vodka.  This was at the behest of The Hipster King, who informed me that sake alone did not have a high enough alcohol content to prevent the growth of botulism.  Thanks for that potentially life-saving tip!
Here is what I did, based on a vodka infusion recipe from Hungry Southerner:
Supplies
Mason jar
Mixing bowl
Small colander
2 fancy wine glasses, for added class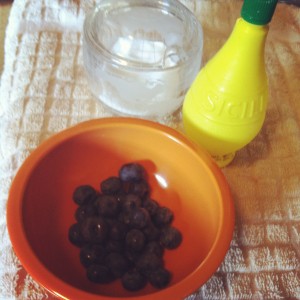 Ingredients
1/2 cup blueberries
1/2 T lemon juice
1/2 T sugar
 1 cup sake
1/4 cup decent vodka — get something that isn't disgusting, because you'll be able to taste it
Muddle blueberries in a bowl so about half of them are crushed.  Mix with lemon juice and sugar.
Combine blueberry mixture, sake, and vodka in a mason jar.  Refrigerate for two days.
Strain into wine glasses to serve.  I initially lined the colander with a coffee filter, but that just took way too long.
The subtly flavored purple concoction had a nice kick to it from the vodka .  I wish I'd taken a picture of the finished product because it was actually really pretty, but my husband and I were too busy getting drunk.  Cheers!