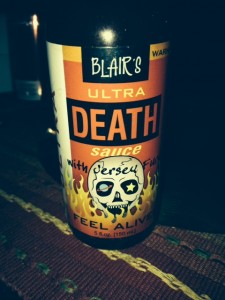 Super Bowl Sunday is coming (and as an Eagles fan, I will have to take solace in the fact that they won the NFC Championship and say "next year, I'll have someone to really cheer for) but the most awesome thing you can eat on Super Bowl Sunday is chicken wings.  I throw in some legs as well, because I like to have different types of meat.
What you need:
Chicken wings and legs (variety is the spice of life)
TIME. Lots of time.  And patience.
Olive oil.
Garlic powder, salt, pepper, various chili pepper spices, crushed red pepper, paprika (Russian, if you can get it)
A bottle of Frank's Hot Sauce (original or extra hot)
Butter
Various hot sauces. I use : Tapataio, Trader Joe's Jalapeno sauce, Choula, and Blair's Ultra Death sauce (which is appropriately named)
Now, here's why time is important.
Set your oven to 200 degrees. Prepare your chicken for the first step.  This means, olive oil, and a dry rub of the salt, pepper, and dry spices above.  You will need to cook your chicken at least four hours, turning it every hour or so.
Meanwhile, make your sauce.  Use the whole bottle of Frank's, and melt in half a stick of butter.  Then season it – use your dry spices and use your hot sauces.  If you elect to use the death sauce (which I obtained at Fairway) use it sparingly.  Sauce that has actual warnings on it is no joke.  Garlic powder is also your friend here. No need to use salt; the sauces have more than enough salt.  Simmer this on low for at least an hour.  The idea is to make it hot, but keep it flavorful, as opposed to hot for the sake of being hot.
After about four hours, take the chicken out.  Put it on some paper towels (gently – it will already almost fall off the bone.  Wipe your pan out with paper towels, because it will have drippings and oil that you don't need.  Put the chicken back in the pan and coat it all with the sauce.  Put it back in the 200 degree oven for an hour, flipping each piece twice.
You'll be drooling by now, but we're not done.
Turn on your broiler, and broil that chicken, which has cooked for five hours, to get a nice crispy, blackened effect on some of it.  Flip it once and pay close attention.
I serve this with carrot and celery slices, and blue cheese dressing  (to which I add extra chunks of blue cheese).
You have no idea how good this is.  Fried chicken wings are great – but this is fall off the bone, I need 10,000 napkins deliciousnesss.  If you try it, let me know how it works for you, and if you have any tweaks/changes to the recipe.
And now I say, 'go Seagulls" because if the Eagles can't win, it may as well be a different bird team!