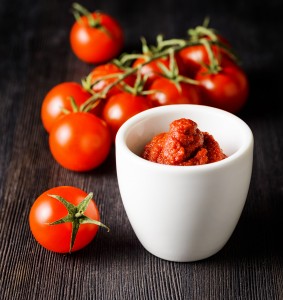 By Pixie
For oh, maybe 20 years, I have been seeking the perfect restaurant red sauce.
I'm Welsh and Irish; I married a Sicilian/Irish dude. He likes my cooking in general… but I want to do better, always.
Enter: The Cooking Channel.
(Sidenote: There is actually a reference to me watching cooking shows to calm me when I am anxious, in song I paid Max Bemis of Say Anything to write for me in 2009. He also references my cats, one of whom has passed and is always missed.)
So, we're watching this show and these dudes who look like they wandered off the set of The Sopranos or Goodfellas talk about Italian cooking. I figured it would be a load of garbage.
And then they made this tomato sauce that looked perfect.
Saute garlic (to taste) (I usually use 5-6 good cloves). Add salt and crushed red pepper.
Add cans of tomato paste – with and can equal of red wine for each can. Because I make large batches, I alternated 3 large cans of tomato paste with 2 cans of wine and 1 can of chicken stock. Then thrown in some chopped parsley. Salt and pepper to taste. At least 2 tsp of sugar. Sugar is so important to tomato sauce. Garlic powder, sugar, basil – as you feel. I always add basil.
SLOW COOK THIS. I mean like 12 hours on low. The longer it cooks, the better it gets.
Oh, and did I mention the meatballs?
Beef. One egg. Seasoning of choice (I use garlic powder, onion powder, paprika, basil, oregano, salt, pepper.) Bread crumbs. Mix it up.
Make the balls, push a hole in the middle and insert cheese. Use what you like, I like provolone. Reform ball so the cheese is in the middle. Bake at 425 until set. Dry them before adding to sauce.
THIS IS A MEAL AND 10 more meals.
All because of the cooking channel, even though I already made changes, it works. My husband's co-workers were trying to steal his lunch.  I've tried tomato sauce, puree, chopping up canned tomatoes. Nothing works like tomato paste. It's the answer to success.
Photo from SavingDinner.com.