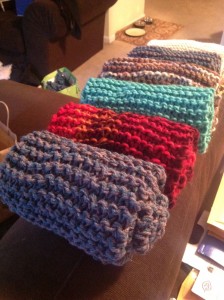 My New Year's Resolution this year was to be more productive. I happened to be on a knitting kick as 2015 began and I knit myself a colorful cowl, a Painted Bunting inspired scarf and another scarf I affectionately refer to as my "Fruit Loop" scarf. Then Snowmageddon came. Armed with my needles and scraps of yarn leftover from other projects I settled in and decided I'd turn cabin fever into a knitpocalypse.
I saw it on Facebook a few days before the storm of the century began. Scarves were turning up on trees and poles in big cities drowning in cold air. I thought it was a great idea, and I couldn't possibly knit myself another scarf. How many scarves does a woman need? My husband doesn't wear scarves and neither does my dog. If I was going to continue my knitting kick I'd have to do it for strangers.
I sat on the couch and knit and knit and knit. In five days I managed to knit seven scarves. Nothing fancy, just simple stitches with yarns that matched the best I could get them to. I tied them all to a pole in front of my condo with a little sign that said "free" and in a few hours three of the seven were gone.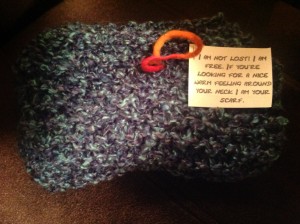 When the second storm of the century was about to descend upon us I went out and took them off the pole. I figured no one could use a scarf covered in ice. As I was untying them a woman and her daughter walked by, the mom was yelling at the kid to button her coat. "It's cold out!" she exclaimed as her own coat was open as well. For a split second I thought I should offer them scarves. But then I thought she might take it as an insult. I could be wrong, it was a split second decision. I thought maybe what makes this scarfbombing thing work is the disconnectedness, connecting without really connecting. Helping someone in need, but only if they want to take it. Maybe I was over thinking it all in that split second, but they were gone before I had the chance to change my mind.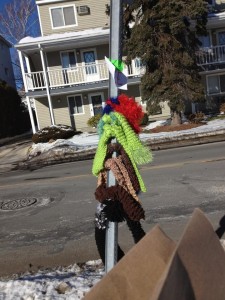 I brought the scarves back in. Nearing the end of my yarn stash I actually unraveled a couple of them and knit them together, creating a really nice brown and green scarf that I was tempted to keep for myself. But I already have three handmade scarves. Someone else needed it more than I.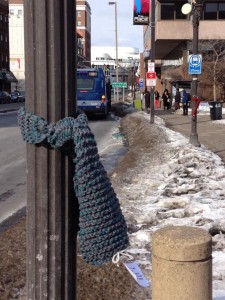 I made a few more and took them downtown. Parking in the mall lot (in a spot with time on the meter. Karma?) I went into Atlantic Square with four scarves and tied them up around the bus stop. I got a few funny looks. One young man asked me what I was doing. "I'm giving away scarves I made. Want one?" He told me it was very nice of me and disappeared on the bus. I was so happy he said that I forgot to take pictures. I just walked back to my car with a smile on my face.
Then something happened. Friends of mine, excited by my scarfbombing, started giving me yarn! Big bags of yarn! Like, fancy yarn. Wool from Ireland and hand-dyed roving and I mixed and matched and knit six more scarves. I went down to Atlantic Square with them all, little tags hanging off them that said, "I am not lost! I am free! If you're looking for a nice warm feeling around your neck I am your scarf!" I tied two up by the bus stop, two across the street in front of Dunkin' Donuts and two across the other street at the other bus stop. By the time I was done tying them one was already taken. When I drove by two days later they were all gone.
Right now it's snowing out. I've got another scarf on the needles and more yarn in the bedroom waiting to be used. I also have two more bags of yarn waiting for me at a friend's house. There are only a few weeks left of winter, probably only one or two storms of the century left. But I'll do as many as I can and then save the rest for next year. This is a trend I hope to keep going.