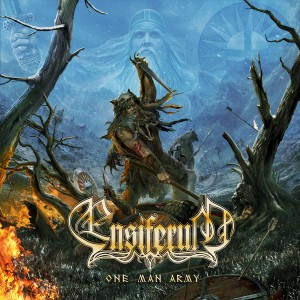 So if you're an Ensiferum fan, why are you even reading this review? Just go ahead and pick up their new album One Man Army. Because chances are, you already know what you're going to get. In fact, when dealing with most folk metal bands, there's never a degree of total surprise. Sure there are variances between the bands. Finntroll is charming and gleefully bombastic like a David the Gnome character brawl. Moonsorrow is brooding and as epically melodic as a Hans Zimmer movie score. And then there's Ensiferum, which I always thought of as a respectable mixture of the two. You can crack open a beer or crack open heads with just as much acceptance in the eyes of this band's fondness for war and celebration. And I assure you that their new album is no different. But let's go over some things for the newbies.
Ensiferum doesn't play around when it comes to their Scandinavian culture. Their music is dripping with tribute to Norse mythology and Viking heritage. The numerous choral sections in this album are like the chants of drunken medieval soldiers re-telling the legends of their warrior forefathers. The title of this album is incredibly befitting. One Man Army is the soundtrack to one man's superhuman victory over an entire populace of vicious enemies. He thrusts his axe through bear skulls, sails his ship into a harbor of flaming arrows and overcomes impossible diversity through mountain blizzards to taste the vodka of triumph. And as you'd expect, the sound of victory consists of melodious and thrashing blood lullabies. Just the right mix of thrash metal, power metal, prog and Scandinavian folk music complete this glorious package of passionate loudness.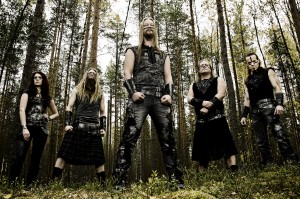 People who are unsure about the band without former lead singer and guitarist Jari Maenpaa don't really have anything to complain about. The strength in albums like Iron is fully epitomized here. The only thing missing might be the presence of ex-producer Flemming Rasmussen. His production on Iron had that distinctive 1980s metal dirtiness. This album is a more traditionally produced offering, with the pristine glossiness one would expect from epic metal affairs. But hell, all of Ensiferum's traits are present and in full power. The symphonic melodies are infectious, aided by riffs which really act like glorified bass lines on which those soaring melodies are grounded. Traditional folk instruments are used to symbolize their Scandinavian pride, but are kept to acceptable restraint. And thank god there isn't a lot of mouth harp present.
Is this really more of the same from the band? Sure it is. But they show no signs of slowing down on their enthusiasm. And you can't help but be engaged by this album's insistence on bringing anyone within earshot along on the journey. This journey might be familiar, but there always seems to be new evil lurking in the same passages through the Finnish wild. And there's never a lack of hearty beer. So don your horns, drink like a fucking Mirkwood Elf and join Ensiferum on yet another triumphant lecture on the similar sweet taste of blood and wine.
8 out of 10.
One Man Army will be available worldwide on February 24, 2015.
Promotional materials courtesy of Earsplit PR and Metal Blade Records.  Band photo by Ester Segarra.