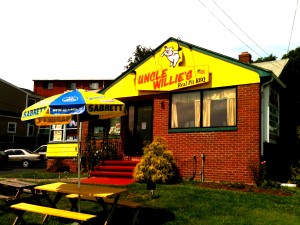 The last time I reviewed a restaurant for Alternative Control it was G-Zen, a vegetarian/vegan/raw food place that had some of the best non-meat dishes around. Clearly the only smart strategy is to go all the way to the other side for the next place. Alt Control readers, this review is all about barbecue – specifically Uncle Willie's BBQ, located in West Haven and Seymour, CT.
According to their website, Uncle Willie decided to bring a real, wood smoked pit BBQ to Connecticut in 1995 after traveling through the south and midwest. Taking inspiration from all the places Willie traveled to, they opened up shop and took on the daunting task of bringing real BBQ to the northeast, a region that's not necessarily known as a good place to get some ribs and brisket. While the BBQ may or may not reach the lofty standards of the American Midwest and south, Uncle Willie's delivers what they promise in that when you taste the food, you're definitely getting a real pit smoked BBQ experience.
I went to the West Haven location, which is right off of exit 42 on I-95. It's so close to the off ramp in fact that the first thing you see is an obnoxiously bright pink metal pig named "Georgia" on the front lawn. The place as a whole has character – the room (let's get down to brass tacks – this place is TINY) has tons of photos, slogans and weird knick-knacks that give the place character and look more like a collection that took years to accumulate. Arrive around noon on a weekday like I did and the place is packed from wall to wall with a diverse array of people, all either waiting for their order or waiting for the hope that one of the 5 small tables will be open. More importantly though – is it worth it to stand shoulder to shoulder in a small room for a few ribs and a brisket?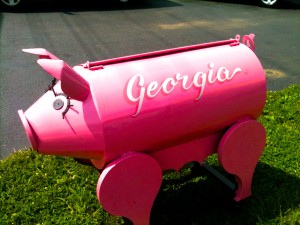 As a responsible journalist, it only made sense to sample as much as possible. For the first trip, my group and I went non-traditional – sure the BBQ is their bread and butter, but how's the rest of Uncle Willie's expansive menu? We went with a cheeseburger, hot dog with baked beans and cheese and "Texas" chili cheddar fries as the side. The result? A gigantic, probably heart-stopping beautiful mess of food. Here's the thing about Uncle Willies – no matter what you get, you're getting the super-sized version of it. A burger at your local burger joint cowers in fear at what looks like a pound of well-cooked Angus beef with a 1/4 of an onion (no really – it looks like they grab a cleaver and cut a quarter of a whole onion off and throw it on top), a thick slice of tomato, a few leaves of lettuce and a thick piece of cheddar in between. It's absolutely what you'd want in a burger; quality meat, cooked well, no skimping on the veggies, but if you don't get any condiments the burger comes off as a bit dry. The Texas chili cheddar fries were the same daunting size, with a mostly beef based chili, light on a thick sauce but full of spices and peppers smothered on cheese fries. It is worth it for the chili, but the fries are the usual base upon which more interesting toppings are placed on top. The real star of the first visit was the hot dog; a foot long dog (the hot dog is so huge that the to-go container consists of a sleeve roughly about the size of a Subway sandwich baggie) that has the smoky, spicy flavor of a place that knows how to grill meat with quite possibly the best baked beans i've had in a while on top. The beans are anything but bland, with a smoky flavor that compliments the all-beef hot dog very well.
For the second trip, it was only common sense to try the BBQ. We got the rib and chicken combo which consisted of two pork ribs that looked like it would tip Fred Flinstone's car over, a 1/4 chicken, two sides (we got Shirley's potato salad and Delta Queen cole slaw) and a piece of cornbread that looked small in comparison to the rest of the meal until you realize that the rest of the meal consists of gigantic pieces of animals. Here's what I look for in a BBQ place that calls itself "one of America's top ten BBQ's" – is the meat so tender that it falls off the bone, does the meat have that all-important "smoke ring" that signifies smoked slow cooking, is the BBQ sauce good, and is the meat over-sauced. Let's break Uncle Willie's down by answering these questions: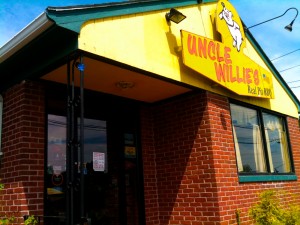 1. Is the meat so tender it falls off the bone? Absolutely; run a fork over the chicken and it falls apart, run a knife down the rib bone and the rib meat slides off. The meat is so tender and well cooked that Uncle Willie's fulfills this important qualification.
2. Does the meat have that "smoke ring?" Uncle Willie's is two for two so far, as the meat is well cooked, slow cooked and smoked efficiently. The taste is a mix of smoky and sweet, with crispy skin on the chicken, well cooked and seasoned ribs (Uncle Willie's uses a "secret" dry rub on all the meats) and an overall enjoyable, non-stringy or tough taste.
3. Is the BBQ sauce good/ is it smothered in sauce? We chose the sweet BBQ sauce (other option is hot) and it's properly distributed amongst the ribs and chicken. There is nothing worse than getting a piece of chicken, beef or pork and it's drowned in sauce so much so that you can't even taste the meat. Uncle Willie's is pretty conservative with the sauce, with just enough to taste and not so much that you need a roll of paper towels to clean up afterward. As for the taste, the sweet sauce is smoky and not sickening sweet, with just the right amount of spice.
As for the rest of the meal, the cornbread is well, cornbread – nothing amazing but also not terrible, the potato salad has a hint of relish which makes it accompany the meat well and the cole slaw is excellent – a mix of peppers and a tangy vinegar taste that compliments the usual ingredients well. Overall, Uncle Willie's is a great representation of BBQ in a state that doesn't have a lot of choices in that area. It's respectable, well made and offers huge portions.  Be sure to bring your money if you visit, as meals like the chicken and rib combo go for around $13 and if you're especially daring/rich you can drop up to $90 on a Family Pack that feeds up to eight people. Uncle Willie's also sells a variety of sauces, t-shirts (it has a cartoon pig on the back!), hats and various other paraphernalia relating to cooking meat, so theoretically you could walk into a BBQ place and walk out with not only some very good BBQ but a nice, ironic looking shirt as well.
For more from JW, visit http://www.9479.net.