This past weekend I hit a new personal milestone: I mowed my first lawn and performed borderline cosmetic surgery to all its botanical elements. This level of accomplishment called for a celebration, so we took a family field trip to a place I've been meaning to visit for awhile – Singlecut Beersmiths in Astoria, Queens. Located on the edge of Queens, right over the Whitestone and Triboro bridges, it's an easy drive from lower Fairfield County.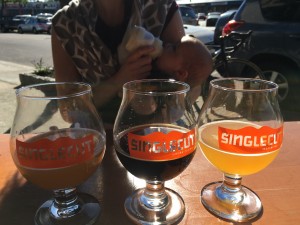 I first learned about Singlecut when I noticed the Half Stack Billy IPA on tap at Cask Republic in South Norwalk and quickly fell under its spell. Singlecut's liquid offerings are definitely hop heavy, but mixed in are several sour and wild IPA variations, a White Lager with several wild and non-wild variations, a couple IPLs, a few stouts (even a sour stout) and a pilsner to round everything out.
Upon arrival I immediately got a good vibe from the space and Sean behind the bar. I ordered up some 5oz tasters and a pretzel with beer cheese for good measure.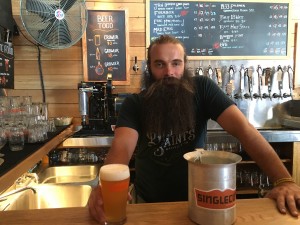 To take a pause from the beer for a second, what's also really cool about Singlecut is the whole naming/motif they have going on. As quoted directly from their website's FAQ page: "A 'single cut' is a body style of guitar. In case you didn't notice, we like guitars."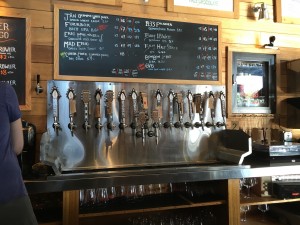 Naturally, all of the beer names are also references to guitar amps, equipment, or musicians. Some are lyrical references: Is This the Real Life?, Softly Spoken Magic Spells, Does Anybody Remember Laughter?… Some are named after the head brewer's favorite tubes and amp parts: KT66, 6V6, 18-Watt, Half Stack, Full Stack, TNT… And others are named after their favorite musicians.  For example while at the brewery today I learned that the Jan Olympic White Lager is actually named after guitarist Jan Akkerman, known most notably for co-founding the progressive rock band Focus and giving us this little gem:
The Astoria taproom is a great space, with high ceilings and big garage bay doors providing that nice inside-outside dynamic. There's plenty of room to hang out with friends, or even find a quiet corner to play a romantic game of Guess Who? over a beer cheese pretzel with that special someone. AND they even have live music on Friday nights and at special events. Maybe there'll be an AltCtrl show there one day…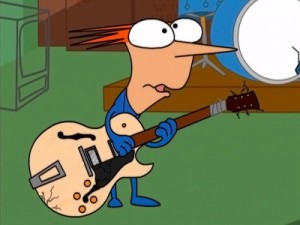 I concluded my visit by filling a couple Growlers (and Crowlers) via the help of Jerzy, who filled me in on a few of the name references. And speaking of name references Jerzy isn't some geographically relevant nickname; it's actually Polish for George and he was born with that name. I ended up leaving with 4 different IPAs and a Mad Eric Oaked Sour Stout Crowler for our editor and resident stout enthusiast Jessie May.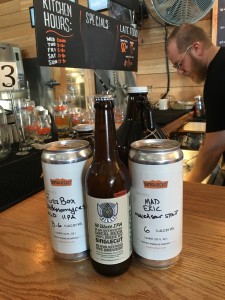 If you like good beer and haven't tried Singlecut yet then you're messing up. You can find them on tap in Fairfield and New Haven county – Cask Republic has them frequently, as does Walrus + Carpenter in Bridgeport. I haven't seen them for sale in CT stores yet, but if you live near the NY border Vista Beer and Beverage usually carries a rotating variety.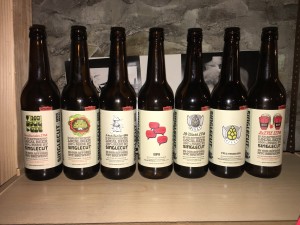 For more from Singlecut, find them on Facebook and the web.
And for more from Alternative Control, find us on Facebook, Twitter, Instagram, Soundcloud, and bandcamp.