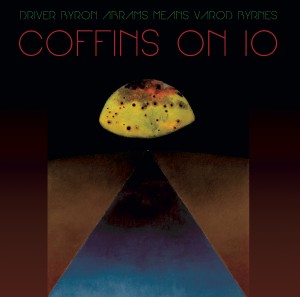 If I had heard this last year, it would have definitely made my top ten. First of all, just look at that artwork. It's like the cover to an old school Ray Bradbury or Arthur C. Clarke science fiction novel. It was easily the first thing that drew me into listening to this. And it isn't the first time I've been driven to listen to an album based on the sleeve alone. Five star artwork doesn't always lead me to four or five star music, but I was pretty confident with this one. And I was right to be confident.
Any explanation of Kayo Dot's history won't do any good when trying to explain the music here. Creator and mastermind Toby Driver has been creating a hodgepodge of avant-garde rock and metal music for years under the Kayo Dot moniker. He's gone about it with the flair of a classical composer. This usually led to some very audacious and often times confusing works of strangeness. Somebody without an experienced ear in REALLY weird music would probably find it to be too much. But Coffins on IO is so drastically different, that I'd rather not waste time on Kayo Dot's musical summary up to this point. All you need to know is that this is probably the most accessible thing he's written since his work with Maudlin of the Well.
So what does it sound like? It sounds pretty much exactly how Driver described it in press releases – Type O Negative, Peter Gabriel and 80s darkwave music set as a soundtrack to Blade Runner. There's a gothic, sort of sluggish melancholy to the pace at times, but occasionally the tempo deteriorates into a manic frenzy of space-age jazz fusion. There's an imaginative, ethereal sort of introspection to the lyricism. The guitar is clean and spacy; the synthesizers echo, float and twist around a disembodied voice caught in the high walls of a metropolitan cage of lit-up skyscrapers. The songs swing through various moods ranging from drugged-up self-pity to child-like wonder to robotic laments over the flaws embedded in the future of mankind. All the while, the tone is always dark, mystical and perhaps slightly dangerous – like walking through a gloomy dark alley in the city.
Make no mistake, this is not pop music. Kayo Dot remains an avant-garde rock act. It's just that the extremities have been dulled this time around. Instead of giant blocks of droning death metal, we get soft pulsations of Flock of Seagulls guitars and keyboards. Instead of blood-curdling screams over anxious semi-distorted jazz guitar jams, we get new wave playfulness over 1980s King Crimson math rock. Instead of the too-muchness in the vertical musical complexity (layering upon layering of musical motifs in a single measure) of bands like Spiral Architect, we get the horizontal complexity (intricate musical ideas unfolding gradually over a longer span of time) of bands like Pink Floyd.
All in all, if you have the liking for a little pretentiousness; a taste for gothic music; the patience for long compositions and a touch of nerdiness for science fiction, I think there's plenty to enjoy here. It's quite a beautiful, strange and romantic adventure into the ether.