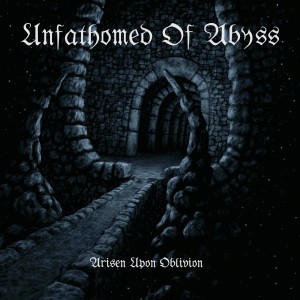 Arisen Upon Oblivion by Unfathomed of Abyss (a.k.a. Kevin Price) is an ambitious album with a purpose. "Arisen Upon Oblivion was purposely created to appeal to fans of the black metal genre while simultaneously revolting those who prefer the easy listening that accompanies today's pop charts." Furthermore, "Unfathomed of Abyss is Price's attempt to develop a garbled and apocalyptic language that punctuates the chaos and seemingly infinite wonders of existence." This is all from the press release, and Price has achieved everything he set out to do artistically. This is a triumph for any artist. The question is will the audience go on the ride? I believe they will.
The first track, To Unequal the Balance of the Cosmos, starts off in a typical, yet jarring, death metal style. Its dissonance makes you question whether or not you'll be able to listen to the almost 15 minute track, but then the most beautiful piano strains take over your ear buds and mesmerize you. Closing your eyes you can see Neil Degrasse Tyson himself, surrounded by the computer animation of the FOX show Cosmos (which has been signed for a second season, perhaps they should consider shaking up the soundtrack.). It is during this track where Mr. Price hits his mark, painting the universe as an epic soundscape of instrumentation.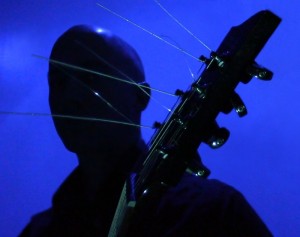 Perhaps this album isn't for non-death metal people. But I wouldn't rule them out. Open minded individuals should be able to appreciate its efforts. The orchestrations at times physically move you. The symphonic sound of the strings and horn section trick you, if only for a moment, into believing you're enjoying the philharmonic. Then suddenly the growling voice, angry guitars and incessant banging of the drums snaps you back into reality. In fact, the drumming may be the weak link in the chain of sound. Perhaps it's my personal preference, but they sound overly synthesized to me. Like a soulless drum machine that can perhaps keep a perfect beat, but doesn't bring any real texture to the table. My ear craved syncopation to counter the held chords of the synthesized strings. But that's me.
This is definitely worth a listen. This is "sit back and enjoy music," or "long drive music," or "stoned out of your mind music" at its best. And go for it, Netflix or On Demand Cosmos, turn down the volume and play this bad boy. I bet it would match up pretty nicely. Good work, Mr. Price…er, Unfathomed of the Abyss. You should be proud.
This post was sponsored by Independent Music Promotions.  All opinions are our own.