A couple weeks ago, I kind of lost my shit at work and decided it was time for an escape.  Having wrangled one free ticket to the opening night of Corrosion of Conformity's spring tour, I headed to the Gramercy by myself to see them play alongside Torche, Valient Thorr, and A Storm of Light.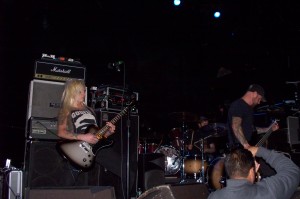 A Storm of Light, from Brooklyn, was up first — and y'know how my whole Valient Thorr thing started because of an interview with Andrea Black?  Well, guess who was playing guitar in this band… Andrea Black.  (Life is like a river, brahhhhhh…)  I didn't enjoy A Storm of Light as much as Black's old group Howl; both bands fall into the doom category, but A Storm of Light was convincingly depressing.  Describing themselves on ReverbNation as apocalyptic metal, they stood almost stock-still, playing cavernous riffs against a background slideshow of tsunamis and starving animals.  By the end of their set, I was ready to slit my wrists in the hotel bathtub just to avoid the impending nuclear holocaust…
And then Valient Thorr came on.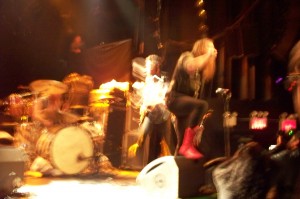 Musically and vibe-wise, this North Carolina band was pretty much the opposite of A Storm of Light.  Frontman Valient Himself was all over the stage, the fence, the audience…  His shirt stayed on for about two songs, and then it was just jeans and knee-high red wrestling boots.  He delivered the music as if he were a preacher, waving his hands in the air and roaring to the crowd, "You know what I mean?"  At one point he even jumped over the fence and sat down in the pit, encouraging audience members to sit as well and somehow transfer their energy to the soloing guitarists on stage. Reminiscent of Thin Lizzy, Van Halen, and Guns n Roses, fans of hard rock n roll should definitely check out Valient Thorr.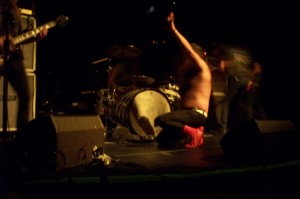 (PS: Valient, if you read this, I wasn't trying to call your band hipsters in the write-up of our interview!  I was trying to say you weren't hipsters!  Really, I love you guys!)
(PPS: Don't worry, I'm not a crazy stalker.)
The Florida stoner-metal group Torche was on third.  I'd describe their sound as "90s alternative meets sludge"; they weren't my favorite, but the crowd was really into them.
Last up was Corrosion of Conformity, playing as a trio with original members Mike Dean, Reed Mullin, and Woody Weatherman.  When I first heard about this show, the only thing I knew about COC was that I liked "Clean My Wounds" and "Albatross."  After some Wikipedia research and a 26-comment Facebook post, I've learned that they've been a band longer than I've been alive and that the songs I like are from the so-called "Pepper era" — with vocalist Pepper Keenan now on semi-permanent hiatus from COC while playing guitar in Down.  My friends told me to expect "80s hardcore" from a Pepper-less COC — a genre I'm mostly unfamiliar with and not really in love with either.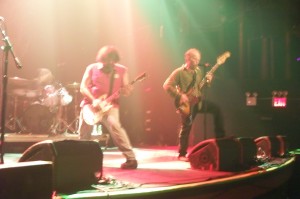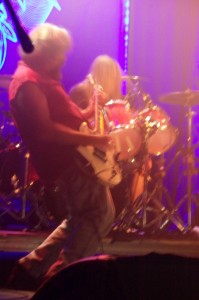 But for a bunch of dudes that looked like grizzled mechanics at a townie bar, COC made "80s hardcore" sound pretty darn good.  Every tempo change, every rung-out note was flawless; it was as if the band members were one organism.  Mullin says on their website, "Mike, Woody, and I essentially learned how to play music together and cultivated our own style, sound, and unspoken language."  He's not exaggerating — in their thirty years as a band, COC has created an unreplicable chemistry that is obvious the instant they start playing.
All the bands that night were tight and good at what they did, but COC stole the show.  I can't tell you what songs they played and I'm still not an "80s hardcore" fan, but it was an evening I'll remember for a long time.  I'm glad that I was able to escape the gerbil wheel for a few hours and witness some truly awesome music.