"A huge rat just crawled across my feet!"
And you thought being a touring rock star was all about whiskey, money, and naked chicks.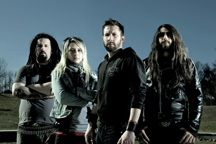 Well, Alternative Control had a phone chat with Howl guitarist Andrea Black before the band's 9/21 show in Washington DC, and apparently touring involves spending all your money on gas, motels, and merch — and being on the lookout for giant rodents. This Rhode Island doom-metal band is taking over the country one club at a time, rats be damned. Howl has been touring practically non-stop since their first full-length album, Full of Hell, was released this May. They are currently on the road with Junius and Valient Thorr, and start another tour next month with Every Time I Die and Trap Them.
Howl's current incarnation began in 2006 when Black got together with singer Vincent Hausman, drummer Timmy St. Amour, and bassist Rob Icaza. The group composed Full of Hell over a long period of time and is excited to have it released on Relapse Records. "They're really good to us," said Black. "They respect their bands and want them to do well." While Relapse is certainly helping Howl with networking and music distribution, the band has been determined to "make it" since they got together. "Everyone was on the same page… We knew we wanted to be a nationally or even internationally touring band," Black said. In fact, the band booked all their tours themselves up until this summer.
Howl's particular brand of metal falls into the "doom" or "sludge" category — why are there so many categories?! — and is often compared to the work of Mastodon. Full of Hell is nine tracks of unadulterated thunder. Long, low riffs rush over the listener like floodwaters. No frills, no mushy "feelings" — just an angry dude growling over heavy guitars. Standout tracks include "Heavenless," "Asherah," and opener "Horns of Steel."
Full of Hell has certainly moved Howl closer to whiskey, money, and naked chicks, but it doesn't sound like that's what the band is going for. When asked if she has had a "best moment" so far in her musical career, Black responded, "I'll play in a bathroom to four people — as long as my equipment sounds great, I'm psyched." And despite solicitations from numerous guitar companies saying, "Hey, play our stuff," she sticks with a rare Gibson RD reissue that has great tone and a lot of sentimental value. "Doves still fly out of the case when I open it," she said. Well, you can't argue with that.
By the time you read this article, Howl will have already passed through our area en route to Canada and then the Midwest. They'll be back soon, though, at Toad's Place on Monday, 11/1 to kick off the Every Time I Die tour. Hopefully the New Haven rats will leave them alone… Don't miss a chance to see this awesome band!
Photo by Matthew Hanlon, courtesy of Relapse Records.