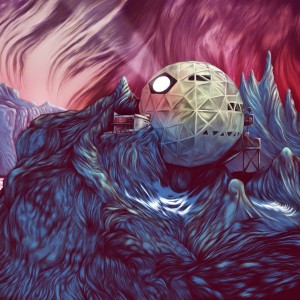 Late December has to be the worst timing for album releases. Most if not all of the best-of-the-year lists are completed by this time. And there's such a long wait for the following December that lots of critics forget about anything that was released before early February. But I'm going to try my hardest not to forget about late December 2015 this year. This is music that I feel can stay relevant during the next twelve months of listening.
Yuri Gagarin's debut album At the Center of All Infinity is a delightful forty minute slab of space rock. Even though it takes very little chances at exploring territory outside the space rock confines, it remains invigorating and a hell of a lot of fun to listen to. For those not acquainted with the space rock subgenre, I can only describe it as the lovechild between psychedelic rock and progressive rock. It retains prog composition while embracing psyche's sound palette. Space rock music is also usually accompanied by cosmic lyricism – a sort of play on flower power poetry and science fiction babble.
But At the Center of All Infinity is an instrumental affair. Walls of electric guitars swell and pulsate and corkscrew about like colors in a comic book fight scene. The rhythm section never reaches speeds in excess of mid-pace, which sounds boring, but actually gives the album a strange hypnotizing groove that almost never lets up. There are a few moments though where the rhythm drops and you're left to float a while in a space capsule lost in an indigo-washed nebula purgatory. "I See No God Up Here" is a good example of the band's knack for being amorphous.
The band is at its best when the solos are ripping. And trust me, there's an almost constant need to solo. The musicianship isn't jaw-dropping, but the sound and style is trippy, unpolished and wild. Keyboards are used as extra ambience and distraction. There's no real melody to the synthesizers. They bubble, beep, spasm and swoosh like laser blasters tumbling around in a washing machine. However, the end of the last song "Oblivion" fades out to a dramatic/melancholic sort of keyboard passage that almost makes me wish that they did more disciplined things with their keyboards through the whole record.
This is drugged-up, far-out ride into outer space. This is an LSD trip while star gazing. It's a loud, rough, dazzling and howling beast made of electricity. And even though it walks at a uniform pace, it's so high that its head is always in a cloud – a noisy magenta cloud filled with liquid rainbow and meteorites. Listen to it and maybe the hyperbolic metaphors will sink in…