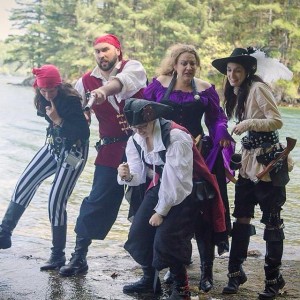 I'm a sucker for Kickstarters. My philosophy is that if I would buy the person a beer in real life, I can give them a few bucks on the internet towards whatever endeavor they're pursuing. So when I saw that my old college roommate's band was crowdfunding to record a full-length album, I figured, "Why not?"
Thus, I have become a lucky recipient of a folder of WAV files containing Below the Gaff's upcoming album, Songs of Warship. And it's a lot of fun! The pirate-themed band has put together 13 tracks of sea shanties, Irish folk songs, and jaunty original numbers that are sure to please any fan of folk or traditional music.
Below the Gaff features female and male vocals, fiddle, tin whistle, and mandolin backed by guitar, upright bass, and light percussion. Vocal harmonies stand out on songs like "Ghost Ship of Martinique Bay" and "O'Donnel's Irish Ale," with the latter tune betraying a love of Flogging Molly. Most of the album isn't available to stream online yet, but "Maggie Fair" from the band's Soundcloud will give you an idea of what Below the Gaff is all about:  The album is streaming online now, check it out!
These scurvy seadogs are based in western Massachusetts, so I haven't had the opportunity to see them live yet — but between their pirate outfits and foot-stomping music, I'll bet they can really get a bar crowd going. Their album release party is January 29th at the World War II Club in Northampton, MA (details here). If you're in the area, check out the show and give Alternative Control the full report!

For more from Below the Gaff, find them on Facebook, Soundcloud, the web, and their comic site.  They have played at renaissance faires in Connecticut before, so be on the lookout for future CT dates!
And for more from Alternative Control, find us on Facebook, Twitter, Instagram, Soundcloud, and bandcamp.
Photos of Below the Gaff by Jacki Jacob's Photography.