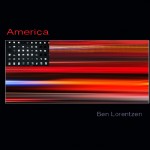 Sparse and delicate, the new album by New Jersey songwriter Ben Lorentzen seeks to create "the defining record of a generation."  While America might not be anthemic enough to achieve that goal, it does offer many facets to dig into.  Lorentzen is creative in his instrumentation; strings harmonica, piano, and I think even a banjo work their way through the songs.  And look how he makes "percussion" by beatboxing into a loop pedal in " The Ugliest Girl in the World":
Not sure if this song is supposed to be flattering…
Other notable tracks are "Heaps of Ashes" and "Wasteland."  America is an album for quiet introspection.  Spin it during a quiet moment and let Alternative Control know what you think!
For more from Alternative Control, find us on Facebook or follow on Twitter/Instagram at @AltCtrlCT!
This post was sponsored by Independent Music Promotions.  All opinions are our own.