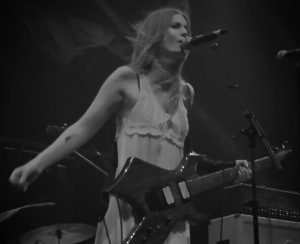 My friends always make fun of me for having "new favorite bands."  I hear a group that speaks to me and suddenly they are the only CD in my car for a month.  "Have you guys listened to the new Khemmis yet?" I'll ask.  "Have you checked out Graves at Sea?"  And they'll laugh and say, "What is this, your new favorite band?"
Well, Psycho Las Vegas has given me even more music to evangelize about.  Here are my "new favorite bands" from each day of the festival.  I'd never listened to any of these bands before, and in some cases hadn't even heard of them.  But that's the beauty of four solid days of music — you go to hear one set of bands and end up refreshing your entire music catalog.
Thursday August 17th — Goya
This Arizona trio takes the "stoner metal" genre seriously — their most recent release is Harvester of Bongloads and their bandcamp URL is https://marijuana.bandcamp.com/.  Do you think they're into pot?  But I didn't know any of that in the pool on Thursday afternoon.  All I knew was that I was playing "hit the beach ball" with strangers to some crushing riffs.  "Do you know who this band is?" I asked the stranger to my right, since I couldn't see what was on the screen behind them.  He told me it was Goya; we got to chatting and it turned out that he was an Israeli who had traveled all the way from his adopted home in Germany for the festival.  How surreal!  I will definitely be looking up Goya's material.
Friday, August 18th — Mothership
One of the earlier acts on Friday, I only caught the second half of their set — but that was enough to get Mothership to New Favorite Band status.  Their stoney, driving grooves are the perfect soundtrack for a desert journey, or just drinking some Coors Lights in your living room with the best of friends and telling them how they have to listen to this band.  Mothership will be in the playlist right next to Goya — try to listen to "Good Morning Little Schoolgirl" without banging your head.  I dare ya.
Saturday, August 19th — Myrkur
I've been hearing about Denmark artist Myrkur for years and my metalhead cousin is a big fan, but for some reason I never sought out her music.  Consider me converted; her ethereal performance made me feel like I was one of the Riders of Rohan charging into battle.  Yet she was humble on stage, thanking an audience member who shouted "I love you" and closing with a solo piano and voice number.  I don't understand the whole debate about whether she is metal enough, or "black metal" enough, or anything enough — but I think it has a lot to do with unemployed mouth breathers who don't like a hot chick making good music.  Myrkur addresses the backlash she's received in this trailer video for her upcoming album:
And she just happened to release a single from that album today, check it out!
Sunday, August 20th — The Murder City Devils
Most metal performance I saw of that weekend, and it wasn't even a metal band — Seattle's Murder City Devils played dark punk music with a sneering swing to it.  Bro comes out looking like Weezer and the next thing you know, he's jumping over the monitor with the entire microphone in his mouth.  Later in the set, he climbed down from the stage and over the barrier to crowdsurf while singing — and I'm sure to security's chagrin, went back over again and actually stood in the crowd to sing.  The stage energy was full-throttle, and it was matched by the music.  I'd never listened to MCD before, but was stomping along to songs like "Hey Sailor" in no time.
Check out our band and crowd pictures from Psycho Las Vegas here.  And for more from Alternative Control, find us on Facebook, Twitter, Instagram, Soundcloud, and bandcamp.