Often the most innovative, emotive and powerful music defies categorisation. Sometimes you just have to hear it to understand it. A case in point is Canada's Völur, whose third album, Death Cult, has just been released on Prophecy Productions.
Often labelled as doom metal, they do indeed owe a large debt to the likes of Black Sabbath and those who followed in Sabbath's elephantine footsteps. But Völur are also borrow from styles as varied as folk, free jazz and black metal. The most unusual feature is that Völur's lineup eschews electric guitar altogether in favour of an arrangement utilising violin as well as bass, drums and dual vocals.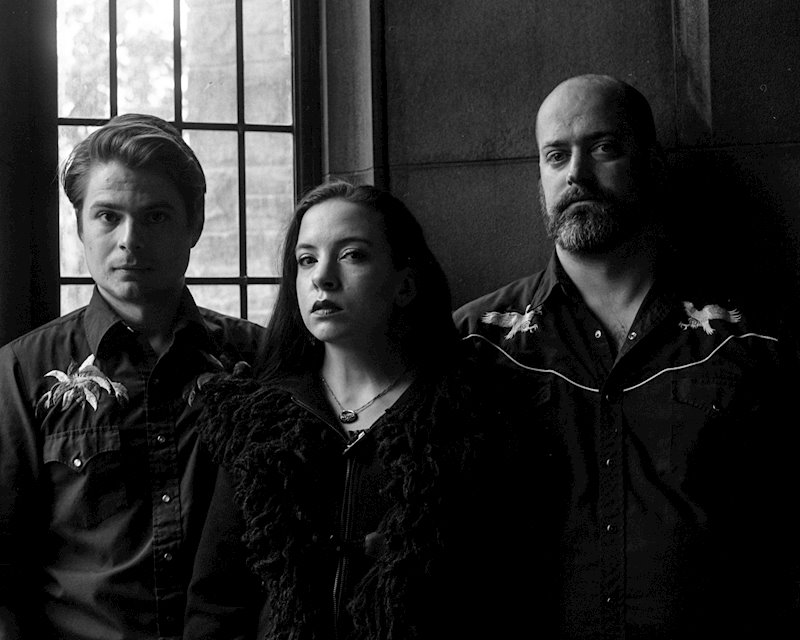 Bass player and vocalist Lucas Gadke explains that Death Cult is "probably the closest thing to a political album we will ever come up with. It is basically a lament for all the destruction, the burning, and gnawing away of this planet's natural environment." These themes are refracted through evocative, ritualistic and mythological lyrics over just four songs which vary in length from around eight minutes to more than 11. The music is deliciously creepy as it flows between anguished black metal, lead-heavy doom, unsettling jazz breaks and majestically mournful instrumental sections.
The record opens with "Inviolate Grove," beginning with a long instrumental passage that slowly marches forward with ever-increasing intensity until it gives way to a smouldering dirge of layered choir vocals and Eastern-tinged violin melodies, interspersed with doom riff explosions.
We then shift gears to progressive black metal territory, with ethereal folk tunes and witch screams laid over a demented groove in 13/8 time. The lyrics ask us to "cower," "tremble" and to "Hang they head / And weep" – and it's difficult not to follow these instructions.
"Dead Moon" is next, and it again begins with an extended instrumental introduction. This time the music draws heavily on classic doom / sludge, with drawn out distorted bass riffs and ominous drums (from Justin Ruppel), augmented by magical violin melodies. The twisted and desperate screams of Laura C. Bates (who also handles violin duties) tell a story of some kind of supernatural ritual before Gadke's voice eventually implores us to "Weep not for him! / Exalted master of sky / The rider of night / Who fell to the Earth". It is rousing and compelling stuff.
Track 3, "Freyjan Death Cult," begins with a freakish explosive jazz chord which then gives way to an avant-garde wig out featuring the violin and some woodwind instruments. Gradually the elements coalesce and coagulate into a feverish and hypnotic riff which is soon joined by the bass and drums. Black metal vocals are mixed with demonic choir passages. It is strange, beautiful and otherworldly. Half-way through this song, the band breaks into a folky jam segment which sounds like a metal version of Fairport Convention. We are then thrown into another jazzy instrumental – chaotic and disorientating – before the song builds via more witch-like screams to a double-kick drum-adorned climactic frenzy.
The album finishes with "Reverend Queen." A synth-like effected violin glides over heavy prog rock riffs before the instruments drop out and give way to a lush choir. The piece cycles through classical-tinged segments of ethereal progressive rock, with time signatures and tempos changing frequently. Gadke's voice begins to growl poetry as the music builds to an ascending climax before cutting back to two layered violin tracks weaving mournfully graceful melodies. The bass and drums re-enter alongside cellos and violins as the slow and melancholic coda builds up and then fades out as the album finishes. It is a sombre, stirring and lament-like close to a rich and evocative album.
Death Cult is as dense at it is dark, and as complex as it is monolithic. It is doom, but it also transcends genre and formula. It is an anguished, tense, sorrowful and cathartic work which will appeal to those who appreciate weirdness as well as heaviness. It truly defies categorisation but its emotional themes have universal resonance.
Death Cult by Völur is out now on Prophecy Productions. Grab your copy here.
---
Band photo and review copy courtesy of Prophecy and Secret Service PR. For more from Alternative Control, find us on Facebook, Twitter, Instagram, Soundcloud, and bandcamp.  Plus, follow our 2020 coverage playlist on Spotify!
Enjoying our content? Support the site on Ko-fi and Patreon!