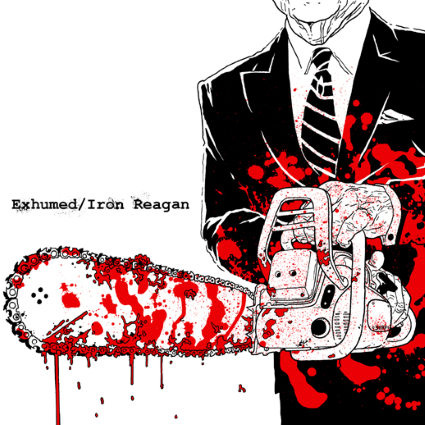 Peanut butter and chocolate.  Sir Mix-a-Lot and pro-grade posteriors.  Some things are made to go together.  On the upcoming split EP from Exhumed and Iron Reagan we discover gore-tinged death metal and thrash-infused hardcore are a pretty tasty match.  At first glance it is a bit of a puzzling situation with Exhumed's splatter-and-pony show swapping spit with Iron Reagan's stripped down HxCx leanings but give it time – the combination makes more sense with each successive listen.
According to the Encyclopedia Metallum, Exhumed have participated on 14 split releases since 1992 along with 7 demos, 6 full lengths, and an EP.  From the earliest gore/grind days to the straight death metal on more recent offerings [including this year's excellent Necrocracy] Exhumed are a consistently entertaining listen.  "Gravewalker" kicks off the party with filth-encrusted bass followed with a necksnapping guitar riff.  Dual vocalists, a la early Carcass, take turns spinning a tale of sexual gratification achieved via casket worship.  Exhumed's early grind tendencies rear their ugly head at the midway point at what amounts to the 'solo section.'  "Dead To The World" leads off with the deathgrind before finding it's groove legs at the midpoint.  Matt Harvey lays down a chaotic solo reminiscent of Slayer's heyday and the tune abruptly ends.  Exhumed follow up these two rotting classics with two old-school hardcore covers and their half of this joint effort begins to make more sense.  "Seeing Red" is a down-tuned version of a Minor Threat jam while "Ready To Fight" soaks Negative Approach in Obituary's crust.
Exhumed set a high bar for Iron Reagan to follow and, I'll be damned, this 'all-star' project do a fine job trying to match them blow for blow.  Iron Reagan's stock-in-trade is high-speed hardcore with thrash elements — which was nearly inevitable as the band features Tony Foresta and LandPhil Hall of party thrash heathens Municipal Waste and Ryan Parrish from Darkest Hour.  iReagan lead off with "Life Beater," channeling the best of classic hardcore mixed with a bit of 80's thrash.  "Gave Up On Giving A Fuck" delivers more of the same.  Short and to-the-point, the Iron Reagan boys get in, rip, and get out.  "Mini Lights" shows the band's thrash history with an intro and main riff that wouldn't be out of place on an early Exodus recording.  Finishing up with "Holy Water Makes Me Wet" [an early contender for best song title of 2014] Iron Reagan evoke the spirit of the Cro-Mags and Agnostic Front, all testosterone and vegan buffets.
Released on the Tankcrimes label, this EP will hit stores on January 7th, 2014.  Both fans of death metal and traditional hardcore can appreciate the material.  Although not a 'true' hardcore fan I have listened to the EP from start to finish at least thirty times and not found any song skip-worthy.  In the name of full disclosure I prefer Exhumed's half but that may have to do with the fact this review was written in a Hate Eternal long-sleeve.  Grind [and thrash and windmill] on!
Iron Reagan is opening for GWAR at Toad's Place in New Haven Saturday, 12/28 — advance tickets are $21 and doors open at 7:30, so go see the thrash dream team for yourself!