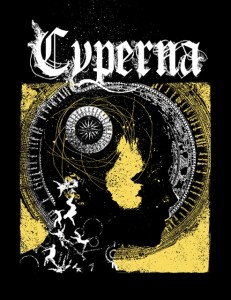 Relentless and purposefully jarring, Cyperna's upcoming full-length album The Darker Side of Matter is a brutal addition to Connecticut's local metal catalog. Dissonant harmonies, stilted rhythms, and shifting time signatures make for an aggressive sound that challenges the ear but still keeps the head banging.
Opening track "Death Rides a Horse" exemplifies these qualities. The song will be familiar to listeners from the video Cyperna filmed at their friend's wedding – possibly the most metal thing to happen at a wedding ever.
The fifth song, "Excuse Me That's Mine," has also been released on Youtube. It shows the band's humorous side with a Primus-esque earworm for an intro — and a vocal break that will surprise the people in the car next to you.
Slow and spacey, seventh track "Tuning a Fracture" is the only departure from the album's overall driving atmosphere, giving listeners a brief break from being aurally pounded. The next song, "Deliquese," teases with a couple melodic riffs at the beginning, but then it's right back to the minor second harmonies. Twelve tracks in all, eleven of which screech, grind, and crush: this record is not for the uninitiated.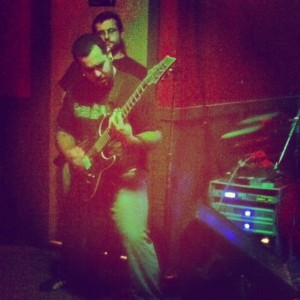 The Darker Side of Matter will be released online Christmas Eve and hard copies will be available in the near future. If you missed them at Cherry Street last night, your next chances to *catch* Cyperna are out of state:
1/17 at The Palladium in Worcester, MA
3/15 at Brighton Bar in Brighton, NJ
Find Cyperna on Facebook and Twitter to stay posted on more shows as they are announced – and to get on that download link when the album comes out this Tuesday!