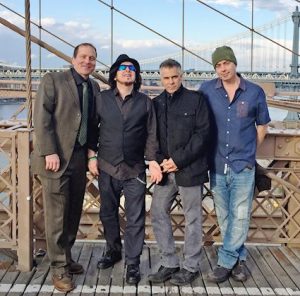 A name like Giant Flying Turtles grabs attention, and this band has the musical flair to live up to their unique moniker.  The Brooklyn quartet blends jazz, prog rock, and various Americana subgenres for an eclectic and one-of-a-kind sound.  In fact, the fourth track on their upcoming album Waltz to the World is fittingly titled "One of a Kind."
Set to be released on September 23rd, Waltz to the World is a far-reaching musical journey that changes locales from track to track.  For example, have a listen to "The Devil and Me" — it's the track right before "One of a Kind."  The atmosphere is completely different.  Would you expect a prog rock love song to follow this foot-tapping rockabilly number?  No way.
The album's instrumentation is as diverse as the music itself.  But no matter what genre Giant Flying Turtles explore, lush vocal harmonies and rousing piano lines are a signature of their sound.  This is a band to watch!
Visit Giant Flying Turtles on Facebook, Twitter, and the web to find out about their upcoming shows.
For more from Alternative Control, find us on Facebook, Twitter, Instagram, Soundcloud, and bandcamp.
This post was sponsored by Independent Music Promotions.  All opinions are our own.