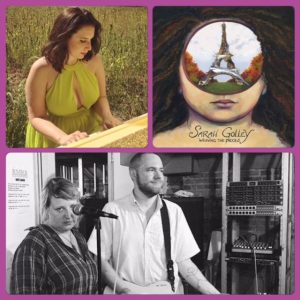 Something has been going on in our local social media world lately: singer-songwriter Sarah Golley has organized a Facebook group called CT Original Musicians-Master List where people can discuss The Scene and promote their own music and the music of others.  I'm happy to find many talented women musicians in the group, which is something I think The Scene always needs more of.  Here are a few bands and artists to check out:
I saw the group's founder play at Seaside Tavern with an old friend's band over the summer.  Not sure if that was before or after I joined her FB group, but either way Golley has quite a set of pipes!  She uses looping pedals to bring her piano/voice performances beyond the norm, adding rhythmic patterns, additional piano lines, and layer upon layer of mesmerizing vocal harmonies.  It's impressive that one person can generate so much musical texture.  The Village Voice said of Golley, "(She) simultaneously establishes a narrative of strength and angst — a dichotomy she maintains throughout her music […]  Golley is able to achieve a moody opulence rare among solo artists."
Remember that old friend whose band played with Sarah Golley?  It was Laini Marenick, pianist and lead singer of pop rock trio Laini and the Wildfire.  Formed in 2015, the group is releasing their first full-length album, Wandering, on November 3, 2017 (following as self-titled EP in 2016).  Fans of Adele and Florence & the Machine will love Marenick's intense, soulful voice.  Definitely a band to look out for — catch their album release show on Saturday December 2nd at the Outer Space in Hamden.
This female-fronted rock duo sent me their EP '83.  Jeannie Fry and Damien Pratt describe their music as "exploring our past set against a backdrop of denim, Marlboro Reds, hitchhiking, and the isolation of our respective Sony Walkmans."  The catchy tunes are sure to bring on nostalgic feelings and a thirst for Busch beer — or whatever you drank as an angsty high school or college student, when the whole world was ahead of you and your head was too far up your own ass to see it.  (Okay, maybe that was just me.)  White is currently looking to rename the band; email your suggestions to [email protected]
The CT Musicians Facebook group also introduced me to another online music zine, CT Scramble.  If there is one thing The Scene needs aside from more awesome female musicians, it's a robust independent media.  Gone are the days when your local band could grace the pages of the New Haven Advocate, in a review written by a paid journalist and broadly accessible in every newsstand and coffee shop across the county.  Now DIY publicity is up to the blogs, and there are woefully active ones.
What can you do to help?  Read the blogs that exist!  Tell your friends about them, share their content, and engage with their social media accounts.  Volunteer to write for one.  Maybe even start your own.
AND FOR CHRIST'S SAKE, GET OFF YOUR COUCH AND GO TO SOMEONE ELSE'S SHOW.
What have you been listening to lately?  And what indie publications do YOU recommend?
For more from Alternative Control, find us on Facebook, Twitter, Instagram, Soundcloud, and bandcamp.