Prolific New Mexico singer-songwriter Guy Grogan released his eleventh full-length album, Purgatorial Hearts, on New Year's Eve of 2017.  A dozen anthems for those "navigating their way through the wreckage of […] relationship battlefields," Purgatorial Hearts' upbeat music belies its serious topic.
One of my favorite tracks was the Elvis Costello-esque "Tell Me Your Name Again":
Grogan tracked the entire album himself, turning to award-winning Santa Fe producer Dennis Jasso to help with production.  The result is a clean, bright sound that rings optimistic, even from purgatory.  Stream the entire album on bandcamp or listen to the Spotify playlist.  Fans of Grogan's music are in luck — eleven albums in, it doesn't sound like this Guy is stopping anytime soon.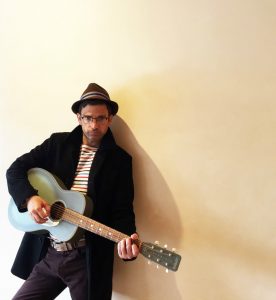 For more from Alternative Control, find us on Facebook, Twitter, Instagram, Soundcloud, and bandcamp.
This post was sponsored by Independent Music Promotions.  All opinions are our own.